MAKING THE MOST OF YOUR SUMMER
Well, it's September and without starting on a downer, that means summer is drawing to a close; so why not make the most of it and get yourself to a pub with a beer garden? Alternatively you could just have a party in your back garden – but don't forget that whilst you enjoy it, your loud music can upset your neighbours. Another good way to upset your neighbours is to put dog dirt on their door handles.
Before I go any further, without speculating too wildly on the average age of my readership, this week I use a couple of terms that not everyone will be familiar with , most notably "Trap" and "Twerk". If you don't know what these mean, they mean stupid things that youths do, when they are not too busy having the wrong attitude, bad manners and no bloody respect. And not pulling their bloody trousers up and looking like they've had an accident.
THURSDAY 5th September
Sean "the Bear" McGrath does a pub quiz every Thursday at Christies Bar. I like Sean and I like Christies so this gets mad props from me. I reckon Christies must be one of Harrogate's longest running pubs, it's a great bar and has got a good range of beers on there too!
Still on at Harrogate Theatre, indeed running until Saturday, is "Royal Flush" that is a one man play about the man who invented the toilet, Mr. Thomas Crapper. Now, this guy for me, should probably be a Knight of The Bath (that's what knights are called, it's not a bathroom related pun), I'm not sure if they can make you a Knight after you dies, but lets face it, he did something amazing when he invented the toilet. Although I wish when he'd invented them he'd made a clause that says when fitting toilet doors in pubs, they have to open outwards so you can just push them, rather than, whilst washing you hands having to watch 9 disgusting "lads" in Henley T-shirts not wash their hands (even when they've been in a cubicle) and then having to touch the very same door handle as these gross people, for whom one suspects idea of a good sentence is 6 months suspended.
"Y.O.L.O" is Viper Rooms Thursday night experience, complimented, of course, with the Official Pre-Bar at Moko lounge. It's a club night playing R'n'B and is very popular with sideways cap wearing people. This is also true of upstairs at Rehab where Dj Tex plays Hip Hop & R'n'B. To avoid confusion between this trype of R'nB and the R'n'B that gets referred to in the next paragraph, this trype (it wasn't a spelling mistake, it was a "clever" piece of musical snobbery) of R'n'B involves girls with big bottoms, shaking them, which as a dance in never going Twerk.
Sharon Colgan takes her band to the Blues Bar this week as a regular monthly residency, fresh from playing the Great British R'n'B festival (NB: a totally different kind of R'n'B, actually meaning "Rhythm & Blues" as opposed to "Rihanna & Beyonce".).
Dr. Thirsty are playing the Alexandra this week, which always has live music on Thursdays, the difference this week being that I know what it is, thanks to Serious George up there for making me slightly less ill informed than usual. One thing that George can't help me with however, is my mediocre Djing abilities, which means that as usual, donwstairs tonight at rehab will be me performing, at best, adequately, as I play records that have guitars in. And sometimes records that don't have guitars in, and are entirely regrettable. Entry is free though so at least there's that.
FRIDAY 6th September
England are playing Moldova tonight, kick off is at 8pm and it's on ITV, one suspects therefore most places will be showing it. But I'm not going to start trawling the internet to find out where, as one suspects you will be able to tell simply by walking past places and judging by how many women are stood outside looking perturbed and neglected.
If you fancy a night at the Theatre, there is the world première of a play called "the grand Gesture" which is a comedy about a man who thinks he's going to kill himself. It admittedly doesn't sound like the most laugh a minute subject matter but it's running Tuesday's to Saturdays until 21st September and actually does look funny.
Crosscut Saw are playing at The Blues Bar this Friday. Having just listened to "Shake em on down" they sound like drinking whiskey whilst watching women shake their bottoms. Which sounds like a great way to spend any night and has surely the best of both types of "R'n'B" namely, the shaking bottoms from the pop stuff, and the actual Rhythm and Blues music to accompany it.
There is also live music at Christies bar, who have The MG Band on, who have a reputation for putting on quality parties with their Ska & Reggae sets.
After that, to continue your reggae-a-thon, Zoso ON Fridays has recently started a night with the Guerilla Dub System at the helm, playing Reggae and Ska all night. It's free to get in, plus they have drinks offers on there.
Dj's Sam & Jack run the weekly Friday Residence at Rehab "Electro Circus" which is free to get in. When they started it they used to make the bar staff dress up as circus animals, which is totally my kind of thing, and the campaign to get manager Elena back into a skin tight leopord print catsuit starts here. Although ideally I'd like her to wear in on a night I'm working. Or just send me some pictures. It's a management technique called "motivation" and honestly, I get it at other places I play and it never makes things "weird".
Viper Rooms host's it's weekly cocktail night Lavish, with Capital FM's Ollie Hayes and 2-4-1 cocktails all night. Dunno how much it is to get in though.
The Den has a more upmarket night on Fridays with a live pianist, though one suspects that linguistically colorful manageress Jen still has a mouth like a sailor.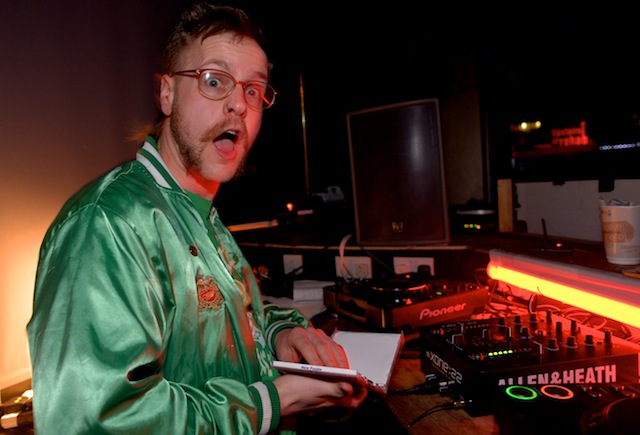 SATURDAY 7th September
The Empress on The Stray is celebrating the 7 year anniversary of their owner taking over, with one of their "Best of British" parties, which includes a quiz, Fancy Dress, and something called "Air Raids" which I don't really understand, but if I can talk my housemate into coming back from Leeds for his birthday, I will be there as the Empresses fancy dress parties are always fun.
Christies Pub has Sean McGrath Djing his cheesy Saturday Disco, I'm not sure what he plays but he tells me it's cheesy and that's good enough for me. Most DJ's I know, when you ask them what they play, use terms like Minimal, Trap, Dubstep, Fidget and Deep. Then you go and see them and they are playing Rihanna & Beyonce… Having had my dreams of credibility relentlessly crushed for 17 years I do feel for them, but I still find it refreshing when someone just says "yep, it's a cheese fest, I play cheese." That is actually keeping it more real than saying you play loads of "Trap" when in fact it's less than one song an hour. Respect.
The following happens most Saturdays, and over the coming months I am merely going to subtly tweek the paragraph each week so ultimately I end up with the perfect description and can save myself 10 minutes each week. Clearly, for me, this current paragraph is someway from perfection, but that's mainly because it doesn't feature me at all….
The Blues has Jed Thomas and his band there this Saturday, Rehab is free in with two floors, your Dj Pieman is upstairs playing rock and Downstairs it's dance, both floors being free entry all night. Also free in is Revolution which has soulful funky stuff in the front bar with Tex and dance music in the main room with Disco Dave. Vipers has Dj Jay Collins playing house and chart music upstairs, whilst in the lounge there's Angel Lee playing guilty pleasures and feel good music and is free entry before 11pm, finally Moko Lounge has a night on called "Risque", playing house and dance.
SUNDAY 8th September
The Blues Bar has live music all day as is their way on Sundays, in the afternoon it's Superset, who's website say they are Leeds top live band, which seems fair and even handed. At teatime May He Go take over, and at night time it's Al Hughes who's a Scottish chap who sings like he's from the south, of America.
The Alexandra has a weekly night on called The Sunday Soundcheck, this week organiser Tom is trying something a bit different. It's a Hip-Hop themed one, with music from 3 artists : Souldeep, Jason Messiah & Lence. Entry is totally free so this looks worth checking out.
The Fat Badger continues it's weekly Sunday Pub Quiz, don't forget they do food there too, the outside seating area is still for me one of the best places in Harrogate to get a bit of sun in, if it's still sunny by Sunday stop saying sun, son…. Viper Rooms will be holding it's regular "Peek-a-boo" club night and I'm playing my weekly residency at Rehab, where it's free to get in and I play loads of different stuff. Actually the last few Sundays have been really good, so knowing how this industry goes, why not come up this week and watch me fall disastrously on my ass and have a shocker.
Cut n' Paste MONDAYS
I've recently started, as you may have noticed, just cutting and pasting: What goes on on Mondays; as whilst there is a decent range, it is invariably the same each week. However I feel that this week that will not suffice, as regular weekly event "Dj Piemans Pub Quiz" up at the Alexandra has currently got a pretty hefty rollover cash Jackpot. It's £500 (F.I.V.E. H.U.N.D.R.E.D. Q.U.I.D.)!! Now I'm not sure how this works, but apparently there are only 8 doors left for the winners to choose, and there is cash behind 3 of them.. You've gotta like those odds, also, you get free Chillie just for entering. That's a good start to the night, plus there are plenty of other things to cut n' paste Every Week:
Dj's Max & Jake now run Zoso on Monday nights, playing a pretty much "anything goes" set, Pete Oliver hosts an open mic session at The Blues Bar and still going after many years is "Mokioki", the karaoki night at The Moko Lounge.
TUESDAY 10th September
The Paul Garner Band are playing The Blues Bar on Tuesday the 10th, as always there is the Folk night at the Tap n' Spile, if you couldn't give a folk about that, there are more clubby options: Moko Lounge has two rooms open for their club night Skint, in the main room it's upfront dance and electro, whilst in the VIP Room Jaye Selway presents her Rock Box, playing alternative and hard rock anthems. Zoso plays host to The Electro Jam, the weekly open decks sesh where anyone can rock up an play ANYTHNG… Seriously, I would LOVE it, I WOULD LOVE IT, if someone turned up and played some Whigfield B-Sides or something. Word on the interweb is that Revolution's "Back 2 Rev" is becoming the busiest Tuesday, it's a bit of a house night, with Dj Tex & Sixus and entry is free for pretty much everything on Tuesdays.
WEDNESDAYS 11th September
Wednesdays are always :
Your Dj Pieman at Rehab
Paul Middleton's Angst band swearing through the night at The Blues Bar.
SHAMELESS SELF PROMOTION
Mixcloud.com/djtrevuk is my online dumperground for some mixes and radio type shows I've done, I've not put a new one up for a fortnight and should really look into getting a new one sorted, as the 7 people who regularly listen will surely be at a total loss of what to do with their free time… If you've never listened to one, you won't know why I only have 7 regular listeners will you… It's probably in your best interests to keep it that way, there's lots of swearing and the music is much more obscure than what I play out in clubs, lot's of like Minimal, Trap, Dubstep, Fidget and Deep and irony . Imagine it as a pressure release valve for someone who doesn't want to hear anything more by Rihanna & Beyonce…. A further stress release of mine is my weekly Blog at Facebook.com/djtrevuk which is basically more rambling than this here ramblethon that, congratulations, you've actually managed to read right until the end!
Thanks for reading, drink responsibly and don't be loose with your affections.
Trev x x x