Local MP Andrew Jones called in at one of Harrogate's newer restaurants, The Pantry on Montpellier Square, to meet their recently recruited apprentices.
Mr Jones, who was appointed as the Apprenticeship Ambassador in Parliament earlier this year, has spoken and attended events promoting apprenticeship in the House of Commons and across the country.
At The Pantry Mr Jones met apprentices Josh Dove and Harry Monkman who work in the restaurant's kitchen.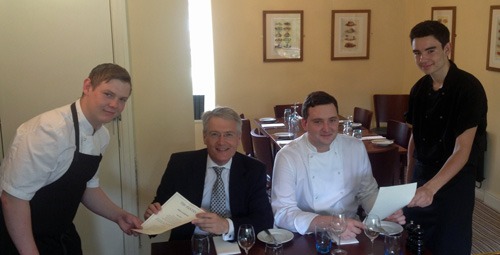 As apprentices, Josh and Harry will be getting hands-on experience of working in a busy kitchen at the same time as gaining a professional qualification. In the 2011/12 year there were 2,220 apprentices working in the Harrogate & Knaresborough constituency – an increase of nearly 25 per cent since 2010.
Speaking after the meeting, Mr Jones said:

The best advert for apprenticeships is apprentices themselves and Josh and Harry are no exception. It is clear that they are enjoying getting a taste of the world of work at the same time as getting a qualification.

I would encourage any business owner who is thinking of taking on an apprentice to contact Harrogate College. The Pantry did, I did and many other employers across the district have done so too.
Owner and manager of The Pantry, Jonathan Elvin commented:

At The Pantry we are keen to play our part in training the chefs of the future. And not only do apprenticeships benefit the young people who are apprentices, we as a company gain from the perspective and input of the apprentices too. Josh and Harry are a valuable part of The Pantry team.