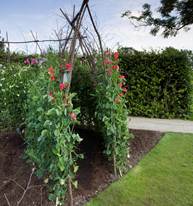 The UK's top sweet pea cultivators will gather at the Royal Horticultural Society's (RHS) most northerly garden, RHS Harlow Carr in Harrogate, on Saturday 13 and Sunday 14 July to compete in the highly prestigious Late National Show, offering visitors the chance to see the peak of the sweet pea world under one roof.
The show, run by the National Sweet Pea Society, will feature a mix of sweet pea growers entering in more than 50 classes. Judging will take place on Saturday morning and visitors will be able to view the prized blooms from 10am onwards.
Liz Thwaite, Head of Site at RHS Garden Harlow Carr, says:

We're delighted to be hosting one of two annual sweet pea shows by the National Sweet Pea Society, where the very best of these fragrant blooms will be exhibited in our award-winning Bramall Learning Centre.

After the judging takes place our visitors will be able enjoy the breathtaking sights and scents of the awe-inspiring display, made up of hundreds of vases of sweet pea blooms from a wide range of cultivars. The awards presentation will take place at 2pm on the same day and visitors are welcome to watch.
As well as the display, a number of sweet pea tours will be running across the weekend at selected times. Led by an RHS expert, the tours will start in the Kitchen Garden, giving insight into different sweet pea selections and how to grow them, as well as walking through Harlow Carr's famed sweet pea tunnel.
The National Sweet Pea Society will set up an advisory stand and display, helping visitors with questions and advice. Surplus blooms will also be for sale, allowing visitors to take home a piece of the show.
For more information, please visit the website at www.rhs.org.uk/harlowcarr or call 0845 265 8070