A group of local craft enthusiasts have 'flower bombed' a Harrogate shopping street to raise awareness of a local charity.
The North Yorkshire Yarn Bombers have decorated the flower beds along Cambridge Street in the town centre with handmade sunflowers and daisies to support Saint Michael's Hospice.
More than 40 flowers have been crocheted for the stunt, which aims to raise awareness of the Hospice's Yellow Week campaign.
The leader of the Yarn Bombers group, Claire Bowes, said:

We wanted to do something fun, colourful and creative to support Saint Michael's and this 'urban graffiti' seemed like the perfect way to brighten up the street and bring a smile to people's faces.
The group, who meet at Knaresborough Children's Centre, have worked solidly for three weeks to create the woolly blooms with yarn donated by Blacker Yarns and Samuel Taylors, Harrogate.
Claire, 30, said:

Each flower is dedicated to friends and family who have received care at the hospice.

This is our first group crocheting project and we're really pleased with the reaction it's getting.
The flowers will remain on display in the town centre throughout Yellow Week.
The week-long campaign, which runs from June 17 to June 24, is dedicated to raising awareness of the important role Hospices play in their communities and raising funds to sustain these much-needed local services.
Saint Michael's supporters are encouraged to take part in yellow-themed fundraising events, such as Tea at Three parties, dress down days and yellow-themed challenges, such as cupcake decorating.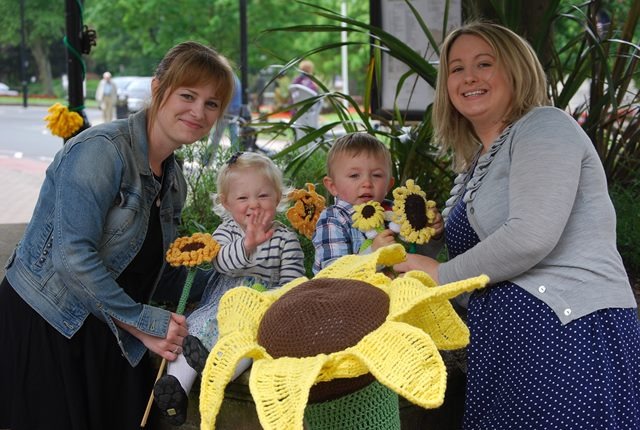 All funds raised during Yellow Week will help the charity continue to provide its specialist services to local people living with terminal illness and bereavement.
For more information about Yellow Week, or any of the charity's specialist services, visit saintmichaelshospice.org or call (01423) 879 687 between 9am and 5pm weekdays.