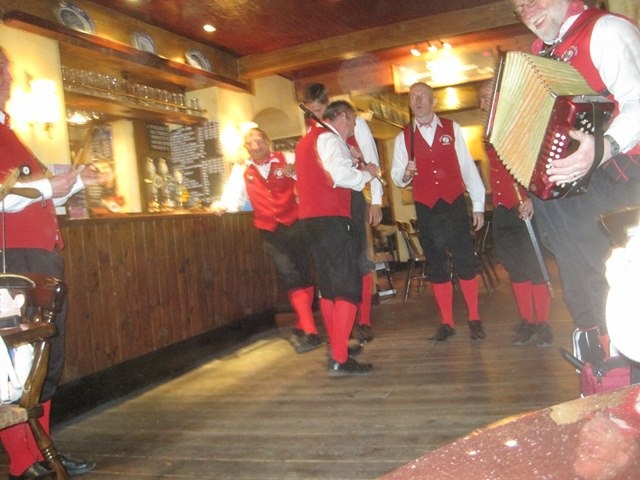 Beers will be swapped for bells and crisps for clogs on Wednesday 12th June when more than 30 Morris dancers descend on a Kirkby Overblow pub – with the last dance inside the bar!
Five Morris 'sides' will be dancing for their drinks at The Shoulder of Mutton in Main Street this evening with a colourful performance of more than 30 traditional dances outside and inside the pub.
Landlords Kate and David Deacon will be pulling pints and pulling back the carpet on the night as the dancers stamp on the bare floorboards in the bar area for their last dance – in an annual tradition that's been taking place at the pub for more than 10 years.
The Morris dancers, which come from all over the UK and include the Great Yorkshire Morris Men, Betty Lupton's Ladle Lakers, Ripon City Morris Dancers, Medusa, Hornbeam Molly and Buttercross Bells, will be performing in their traditional, vibrant costumes – complete with bright stockings and ribbons, wooden staves, flowery hats and even swords – from 9pm outside The Shoulder of Mutton tomorrow.
Kate Deacon from The Shoulder, which is normally more famous for its food than its flings said:

It's a fantastic spectacle, each of the dancing sides has its own band and they take it in turns to perform to the wonderful live music from bagpipes, accordions and whistles. It's a proper Yorkshire knees up!
Bob Carter, secretary of 'Great Yorkshire Morris', which represents several Morris sides from the Yorkshire area, and a dancer with the Great Yorkshire Morris Men said:

It's a jolly good evening for all!

Morris dancing traditionally takes place in the spring in order to wake up Mother Earth and encourage the crops to grow, and we're always looking for nice pubs in a nice location in which to perform. We've been dancing at The Shoulder for many years, and once it goes dark we relocate inside the pub for more dancing – and a few beers – although, unlike most pub regulars, Kate and David do have to clean under the carpet before we visit!
The Morris dancing will start around 9pm at the Shoulder of Mutton on 12 June 2013.