The stage is set for the 2013 Great Knaresborough Bed Race, the 48th edition of this annual event first held in 1966. On the morning of Saturday 8 June, 90 beds of six runners and a passenger will gather at Knaresborough Castle to be decorated in the theme of the year – 'Myths and Legends'.
At 1 pm the Parade will start from the Castle, taking in the High Street and Bond End and passing into the grounds of Conyngham Hall, where the decorations and fancy dress is divested to racing trim.
Starting at 3 pm, the race is run as time trials with teams setting off at five-second intervals. This allows ample opportunity for overtaking through the gruelling course along the Nidd Gorge, up Castle Ings and around the Marketplace, before descending to High Bridge. The final act is the icy swim across the River Nidd for all six runners and the passenger, before slithering up the bank to the finish line.
The course is about 2.4 miles long and the fastest teams do it in just over 14 minutes; the slowest in about twice that time. There are awards for the fastest team and the fastest female team, mixed team and new team, as well as fastest junior male and female teams. There are prizes for the Best Decorated Bed and Most Entertaining Team.
The Great Knaresborough Bed Race has spawned similar events in Germany, the USA and elsewhere in the UK, with the latest being run in Auckland, New Zealand on 25 May, says Knaresborough Lions' president Nigel Perry.
Nigel said:

They contacted us late last year from New Zealand and asked for our help.

A member of the organising group came to the UK and we met him in Knaresborough on 7 January, passing over copies of our rules, safety procedures, photos, past programmes and other material. Above all, we gave him the advice to pick as spectacular a location as Knaresborough in which to run the event.

They wrote to say their inaugural Bed Race was a great success and it looks sure to become an annual event. They even had 'Bed Race Weather' as the clouds parted and the sun shone on the day. We're hoping the same for our race on 8 June.
The Great Knaresborough Bed Race is organised by volunteers to raise funds for good causes. Between the Knaresborough Lions, the teams and other voluntary groups it is believed that over £80,000 was raised in 2012. Apart from the 630 racers and passengers, another 200 people take part in the parade, 250 volunteers marshal the crowds and 25,000 spectators come to Knaresborough to watch.
The theme of Myths and Legends for the pageantry of the 2013 Great Knaresborough Bed Race is a nod towards the town's involvement in tales of the unexpected.
Alan Walgate, chairman of the organising committee of the Lions Club said:

Mother Shipton obviously takes pride of place in Knaresborough.

But we have associations with Robin Hood, King John, Robert the Hermit and the ghostly fishing fleet of the Nidd. The murderers of Thomas a Becket hid out in the Castle and Guy Fawkes was a much-misunderstood local lad who just happened to have strong views about Parliament.

We've had homicidal schoolmasters, and more than our fair share of vampires, trolls, witches, warlocks, walled up cats and countless other-worldly inhabitants of the imagination.

But we don't want Bed Race teams to focus just on local matters. As we have found in the past with Bed Race themes, the broader the canvas the better the array for the parade of decorated beds through town. We are encouraging entrants to cast the net wide through ancient history – British, Greek, Viking, Roman, Chinese, Egyptian, African, American and Asian.

Legends can be old or new,It is amazing to see who has attracted legendary status from pop stars to sporting heroes, explorers, tribal leaders, local officials, kings, queens and courtiers, road builders and prophetesses. Jack Metcalf and Ursula Southeil would approve, we feel.
Thanks to Sponsors
Knaresborough Lions Club president Nigel Perry praised the sponsors of Bed Race for ensuring the event continues to be staged.
Nigel said:

There are fixed costs involved in mounting such an event from traffic closures to crowd barriers and safety provisions. Without the support of a number of commercial organisations we could just not stage the event in the form it has been held for the past 48 years.

Proctor and Gamble helped save the event when it was confronted by the need to bring in professional services to close the roads. Piccadilly Motors has been our longest backer and has done much to aid the growth of Bed Race in its new era.

HACS plays a vital role in preparation of the site, and the provision of equipment and barriers. They also provide staff to help us carry out a number of important tasks on the day. G H Brooks and Belzona have stood by us to help put on what we hope will be another fabulous day, and we are particularly honoured to welcome our latest sponsors, CNG and Yorkshire Linen.

GSPK and Knaresborough Technology Park are again providing their premises for the park and ride service, and Eddie Brown Tours is running a free bus service. To all these, the Inter Group, Speedy and our other supporters, this is my opportunity to say a big 'thank you' for helping make Bed Race what it is.
The Knaresborough Lions are also grateful for the support they get from other bodies for ensuring the event is a highly enjoyable family day out: Harrogate Borough Council, Knaresborough Town Council, North Yorkshire Highways Authority, St John Ambulance, North Yorkshire Police and British Transport Police.
Change a Duvet
In line with beds and all those is connected, The Yorkshire Linen Company is running a contest in the grounds of Conyngham Hall on Bed Race day to see who can change a double duvet in under a minute. Those who manage stand a chance to win a £250 voucher courtesy of Bed Race's newest sponsor, Yorkshire Linen.
The firm, which is celebrating 20 years in business, is challenging EVERYONE to come down to its stand in the grounds of Conyngham Hall and try their luck. All taking part will go away with something – a discount voucher redeemable in both its Harrogate shop and the Darley Mill Centre.
Ross Leventhal, Managing Director of The Yorkshire Linen Co, said:

This year we are celebrating our 20th anniversary, and as such we were looking for an opportunity get involved with a major local event. Our business is best known for selling bedding, so what better fit can there be than sponsoring the Great Knaresborough Bed Race.

The Bed Race is a truly unique event. It's a credit to the region and brings many visitors to the area," he added. "For us its appeal is that it centres on beds – just like our business.
A Dip in the Nidd
Heavy rain leading up to last year's Bed Race nearly threatened the most popular part of the event, the 25-yard swim across the River Nidd.
Teams' coordinator John Dickson said:

Records show that North Yorkshire experienced one of its wettest years since, well, even before I can remember.

On the day before Bed Race the river was above its safety level and we thought we would have to abandon the crossing. But luck and what we like to call 'Bed Race Weather' broke out and the rain stopped, the river dropped a foot and the current calmed down. On expert safety advice we put in place extra precautions such as running ropes across the river and restricting the number of teams in the water at any one time, which slowed the times for all but the fastest teams but did at least ensure the event continued in its traditional format.

This year things are different," John said. "Although it has been a chilly spring there hasn't been anything like the same amount of rain. While we don't want to pre-judge conditions on 8 June the river crossing should be okay, though racers might want to bring an extra jumper.

As we said last year, Bed Race will be held whatever happens, come hell or high water.
Getting to Knaresborough and Road Closures
Park-and-ride services provided by Eddie Brown Tours will run on Bed Race day between GSPK on Manse Lane, just off the York Road, and the town centre, turning around every 15 minutes or so from 10 am to 6.30 pm, says Jon Coote, Lions' safety officer.
Jon Coote said:

Both parking and Park and Ride services are free, Northern Rail has made provision for those arriving by train to ensure that everything contributes to making this a great family day out.

We are very grateful to GSPK for again allowing visitors to Bed Race to make use of the Knaresborough Technology Park premises, to ALM for providing an overspill car park in Grimbald Crag Close and to Eddie Brown for providing a free bus service. It all helps to reduce congestion in the town while allowing large numbers of people to see this great charity event.
Roads in and around Knaresborough are closed to traffic from midday to 5 pm. The Market and Silver Street close from noon, the High Street, Bond End, part of Boroughbridge Road and Harrogate Road are closed from 12.30 pm. There are closures, too, affecting Cheapside, Castlegate, part of Brewerton Street, Fisher Street, Castle Ings and Waterside from Castle Mills to High Bridge.
Race Arena and Field
Just like last year, spectators coming to Conyngham Hall field will be able to watch events unfold on a 10-metre LED unit, designed to operate come rain or shine – the Lions hope for more of the latter. There will be two or three roaming cameras getting the best of the parade and the Race, while giving live coverage of the teams swimming the Nidd, and in-between the action there will be screenings from last year's Bed Race.
Nigel Perry said:

There is much that people want to see at Bed Race and it is difficult to enjoy vantage points where you can get a good overall view of the action.

By locating the screen in Conyngham Hall field thousands of people will be able to see what is happening and will get a close up view of what is perhaps the most stunning part of Bed Race, the river crossing. Along with live commentary from Stray FM, this will add to the attractions of the day.
There will be bars and catering, rides for kids and stalls manned by local charity groups at Conyngham Hall. Entrance is by Programme or £2 per adult; kids under sixteen enter free.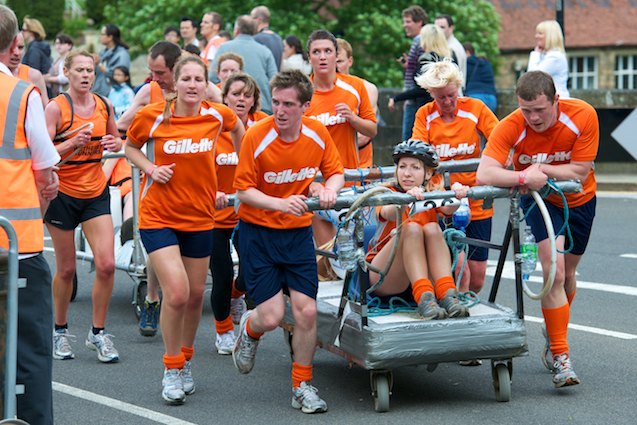 2012 Bed Race Winners
Ripon Runners scored a unique double at the 2012 Bed Race with the male team winning the overall fastest team award and the ladies finishing first in the female category. In fact, Ripon Runners for Girls came just seconds ahead of HPL Flyers, breaking their 12-year winning streak.
The performance of Piccadilly Men, actually a junior male team of 16 year-olds and younger, in coming 17th overall and winning the junior male trophy was a fantastic achievement.
Another outstanding performance and also a second successive win went to the Lido Loonies in the Best Dressed Bed category. Such was the very high standard of the decorated beds and fancy dress that this is the first time that such an award has been captured two years in a row. Winner of the Most Entertaining Team award went to Humberston Lions.
Key results for 2012:
Fastest team Ripon Runners 14 mins 43 secs
Fastest female team Ripon Runners for Girls 17 mins 19 secs
Fastest mixed team Belzona Bullets 22 mins 15 secs
Fastest new team The Sweet Chariot 22 mins 27 secs
Fastest male junior team Piccadilly Men 16 mins 45 secs
Fastest female junior team Knaresborough Celtic Girls 35 mins 43 secs
Best Dressed Bed Lido Loonies (Belgium)
Most Entertaining Team Humberston Lions (Japan)
Sandra Bradley Trophy for
non-corporate team to have  raised through Bed Race 2011 raised the most money in 2011 – Harrogate Round Table/Paperworks £12,000
Piccadilly trophy for corporate Team to have raised the most Bed Race in 2011 Piccadilly Motors, £6,000 raised through
Brian Hiscoe Trophy Contribution to Bed Race for Paul Wade of Guardian Alarms who has  sponsored a team in Bed Race for 25 years.
Programme for the Day
This year's Bed Race programme is better than ever with 48 full-colour pages detailing the events of the day, the list of times from last year, and the running order and countries for this year's field. There are notes of welcome from mayor John Batt and a nostalgic look at Bed Race in the 1990s. There are references to myths and legends from Knaresborough, wider afield in Yorkshire and through the UK.
 Compiler of the full-colour programme, Martin Berry said:

There is more on offer for readers.

We know that many people keep the publication as a souvenir of the event and we have worked harder to improve its look and content.

The Lions are grateful to our advertisers who have help fund the programme and to the Inter Group of Lingerfield who subsidise its printing and production. Copies can be obtained from the Lions or bought on the day.
The 2012 Bed Race Programme costs £2 a copy and acts as entry ticket for one adult into Conyngham Hall field. Mother Shipton's Cave has a voucher in the programme for a free entry at off-peak times in 2013 for one adult.
Family Day Out in Knaresborough

Chairman of the Bed Race organising committee Alan Walgate said:

For many decades Bed Race has been a firm fixture in the calendar of must-see events in North Yorkshire.

Many of the town's traders, volunteers and the Lions ourselves work hard to make this a great family day out.

There is fun aplenty and some wonderful sights to see. For those people who travel from far and wide we hope they enjoy their visit to our great town and will come again soon. Bed Race acts as a catalyst for repeat visits, bringing benefits to all of us who live in and around Knaresborough.
Further details are available on www.knaresborough.co.uk/bedrace/