It has been another fantastic season for the footballers of St. Aidan' Church of England High School Harrogate.
The 1st X1 have had unprecedented success. Of the three Senior North Yorkshire County Cups, the boys won two of the competitions beating Richmond in the Wilmott-Fisher Cup 5-4 on penalties and Easingwold 3-1 in the League Conference. They also beat Harrogate High School 3-0 in the final of the Area cup to become Harrogate and Craven Area Champions. The team were close to a 'Grand Slam' of victories but lost 0-1 to Ermysteds in the final of the Graham Claridge competition.
The boys also had a fabulous run in the English Schools National Cup making them one of the top football school teams in Yorkshire. Congratulations to the boys: Rob Holliday, George Sweeting, Eliot Dixon, Will Bell, Adam Young, Tom Adams (captain) , Harry Jackson, Ben Hillhouse, Sam Smithson, Matthew Lax, Randy Ngoma, Rob Hardie, Ollie Eves, Ben Fairhust, Jack Harrison, Matt Williams, Tom Haswell, Ollie Wilson, Jack Clark.
Selection for England Schools National Coaching course.
Matthew Lax from St. Aidan's has been selected to attend the prestigious ESFA Coaching and Development Course at Repton School in August. The course is used as the first stage of recognising talent to go forward for England U18 selection. Matthew was selected after some fantastic performances playing for St. Aidan' and North Yorkshire County this season. Well done!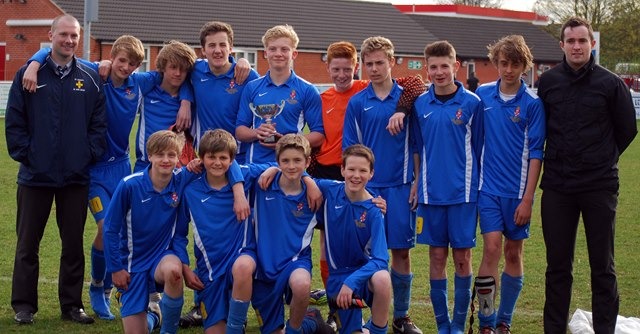 Other teams at St. Aidan's have also had a terrific year
The Year 9 team won the double of North Yorkshire County Cup and Harrogate and Craven Area Cup defeating Wensleydale 2-1 in the County final at Harrogate Town. They also beat St. John Fisher 6-2 in the Harrogate and Craven Area Final at Knaresborough Town. The boys are: Callum Cardwell, Phil Milsom, Mike Woodbridge, Zac Berrill, James Rawson, Elliott Holliday, Joel Fireman, Jamie Etheridge, Andy Dickinson, Phil Mitchell, George Mills, Will Denton, Josh Read-Rowlands, Alex Gott.
The Year 10 team were also Harrogate and Craven Area champions beating Boroughbridge in the final 3-1. The team also reached the last 32 of the national cup.
Well done to all of the boys.