Two new specialist dementia care homes are being planned by a North Yorkshire business following the success of its first £5m venture, launched with support from Yorkshire Bank.
The two new homes, both for the Yorkshire region, are currently at the planning phase for Harrogate-based Vida Healthcare. Vida launched its first venture last year with financial backing from Yorkshire Bank's Business and Private Banking Centre in York.
News of the proposed homes by Vida Healthcare, run by father-and-son team, Chris and James Rycroft, is part of a strategy to create five homes with a total of 500 places. Last year the company opened the 70-bed Vida Hall, Starbeck, Harrogate, which created 70 new jobs.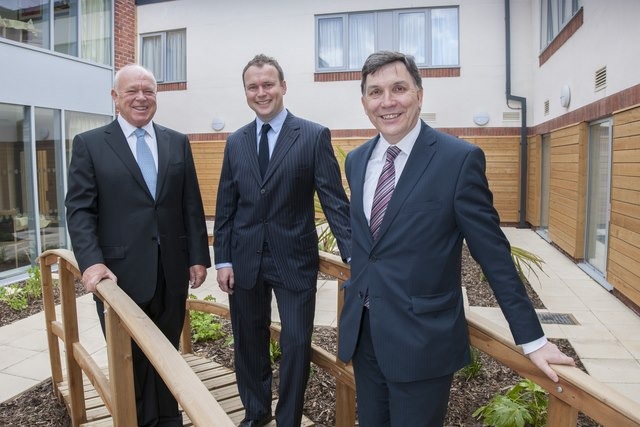 Vida Healthcare's approach includes providing specialist care, which enables residents to reduce their dependency on antipsychotic medication. The care home operator works closely with a leading clinical psychologist, specialising in cognitive stimulation therapy, to pioneer a new treatment for mild dementia, which reduces anxiety and drug dependency.
Design experts specialising in dementia care have also been consulted by Vida Healthcare to create environments with innovative design features and facilities, such as landscaping and sensory gardens, which support the needs of patients with the condition.
James Rycroft, Vida Healthcare Managing Director, said:

The performance of Vida Hall in terms of meeting demand and the delighted reaction from families, has re-affirmed our belief that we are offering a genuinely new and exciting approach in caring for older people.

The aging demographics of our society mean that dementia care will become a growing part of the UK's healthcare provision. We're delighted to announce that we plan more homes and are looking to continue our partnership with Yorkshire Bank in achieving this.
Yorkshire Bank commercial banking relationship manager, Brian De Vere, said:

Like other countries, the UK needs to accelerate the development of these facilities as improvements in healthcare move us towards an era when those over 60 are the dominant sector in our society

Yorkshire Bank has significant national expertise in this sector. Vida Healthcare has an innovative and first-class approach and we look forward to supporting them as they extend their care home network.
Yorkshire Bank has introduced a series of measures designed to help growing businesses – a £1billion "Business Expansion Fund" and switching package to assist businesses transferring their banking facilities.
The "Growing Business" package of measures will provide new and additional support for businesses looking to start up, expand or switch their banking arrangements. The range of initiatives underlines Yorkshire Banks' commitment to help UK businesses grow under the Funding for Lending scheme.