A massive turnout over the 2 week period leading up to the Harrogate & District Darts league finals night on Wednesday the 29th of May ensured that the 2012/13 season is a resounding success.
Wendnesday 15th saw the Manhattan Harrogate host a busy evening of darts as the best pairs players in the area threw tungston toe to oche for hours on a long evening of tension and eventually for some victory.
Reigning champions "The Lewis Boys" looked on form as they dispatched Tez Sherwood and Chris Nelson in 30 and 29 dart legs of 701, Tony Sharratt & Lee Swales despatched Paul Jackson and Leon Wadsworth in a final leg decider. Performance of the night though went to the new partnership of Rick Harper and Shaun Sowray storming through the rounds despatching a number of pre toutnament favorites on the way, 2 – 25 dart legs were enough to send out warning bells across the venue and make for an interesting finals night that will involve 8 of the best players in the district.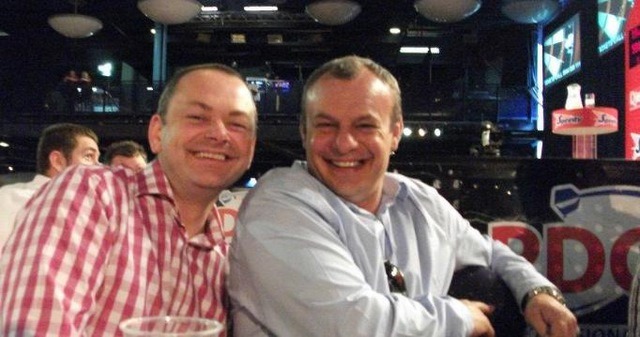 Pairs Qualifiers
Rick Harper – Shaun Sowray
Tony Sharratt – Lee Swales
Shaun Smith – Sharkey Stevens
Shaun Smith and Sharky Stephenson ensured that Harrogate Railway have representation on finals night with a solid perfomance beating the pairings of Paul Wood and Wes Gotting, plus the formidable Karl Walker and Andy Hare.
The Lewis boys last game of the night was a hard fought final leg decider against the big man himself, Nick Hanslow, and Mad Dog, Ian Gibson. A 29 dart fast fire leg ensured that both Alex and Lewis will have the opportunity to retain the trophy, not done since 1993/94 – R.Henderson/R.Yates.
Three Time quarter finalists Wayne Campbell & Dean Lawman commented on the night that although they had opportunitys to "Take out the Prides" missed doubles and nerves got the better of them, and left the building muttering, "Theres always next year"
Wednesday 22nd saw the Railway Club host an evening of fast games and spinning heads as 4 close proximity boards all engaged with scorer's, shouters and players vying for success.
Acting League Secretary "Ian Gibson" said on the night, it could not have gone better, the draw was exiting, the venue was perfect, and the darts. Who could have asked for a better evening?
Well Kris Goodman for one, he bowed out as individual's title holder with a quiet swan song. And the evening ended up belonging to other players.
Dean Lawman had what could be classed as an "On night" his draw was daunting, but his performance was second to none. First up, young Richard Clark of Starbeck Working Men's club, Lawman showed his intentions with a first leg 15 dart game, and a double double finish. Second Round, GB Player and Reigate Cup holder, Rick Harper, not an easy opponent, Rick's national and international experience has paid dividend in the past with multiple titles, and also the small matter of defeating Lawman on their past 5 encounters in competition made Harper favourite on the night. But scoring power and 2 maximum scores of 180 were not enough to stop Lawman.
His final qualifying game would be against a local legend ex yorkshire player, and 3 time winner of the competition Richard "Rowdy" Yates. The game was tense if not a classic, the deciding leg ensured heads pointed toward the board as underdog, and rapidly improving player Lawman pulled it off and now has the opportunity to repeat his fathers success of 22 years ago "Gerry Lawman 1991 Champion"
Other perfomances of note on the eveining included a great final leg of darts for Alex ROLO Roadley as he max'ed a 180 in the deciding leg to qualify for a finals night quarter final place. Shaun Smith powered through the eveneing defeating in form Graham Hoggarth, Wayne Campbell, and finally fast improving Jordan Harper.
All the qualifying players are listed below and all will hope for success in the final night of the Winter season at Starbeck Working Mens club. And with a single qualifying spot for the victor to represent Harrogate in the forthcoming inter league challenge, (Harrogate v Knaresborough) the competition couldn't be hotter.
Individuals Qualifiers