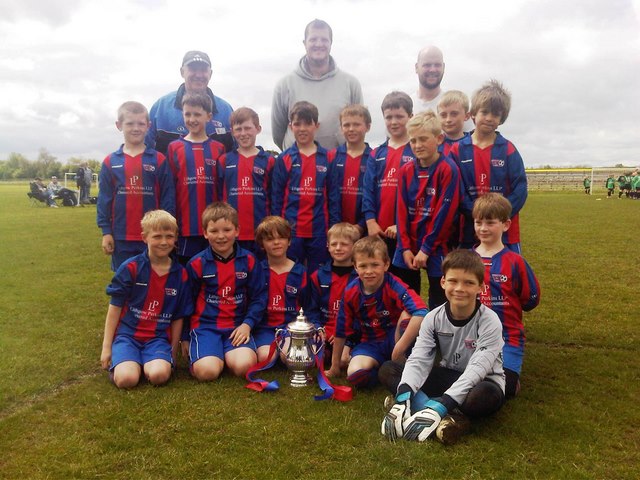 Harrogate and Wharfedale Friendly Football league Cup Final 2012/2013
Pannal Ash 2 – 1 Knaresborough Celtic
Pannal Ash Under 9s achieved an historic victory in this year's league cup final when they became the first and last holders of the Mathew Addyman Memorial Trophy.
The trophy was donated to the Harrogate and Wharfedale friendly league in 2000 by Susan Addyman in memory of her son who died tragically in a road accident.
Susan's brother Cliff Trotter, who is currently the league & Pannal Ash president, was managing the U9s at Pannal Ash at the time and the trophy was designated as the U9s cup.
Pannal Ash were the first winners and repeated the success the following season. Since then it has been won by several other clubs in the area but this season sees the end of competitive football for the U9s due to FA directives to improve youth football. That being the case this was the last time the cup would be ever be won.
The final took place Sunday May 12 between Knaresborough Celtic and Pannal Ash and after an enthralling encounter Pannal Ash succeeded in bringing the cup home on its last outing. Having endured a cup run with three extra times and having knocked out the holders and league winners Pannal Sports in the quarter finals, the manager of Pannal Ash Mr Steve Mcculloch said
'We all knew the importance of this cup to Cliff and to the club as a whole. Our team produced their best performance to date to beat a terrific Knaresborough Celtic side who gave 100 per cent to a thrilling game. I am only sorry there has to be a loser as neither side deserved to be disappointed. '
The final was taken to extra time after Dan Mcculloch equalised for Pannal Ash with seven minutes remaining of the allotted hour and in extra time Josh Miller won it with a shot from the edge of the box. Harvey Leach (Pannal Ash) playing at Left Back was nominated by the Referee Alan Martin as the man of the match.
A great final played in superb spirit by two good teams and a fitting ending for the cup itself. Football did come home to Pannal Ash.