One of the country's best-known breweries is celebrating its tenth anniversary of being back under family control next month. (June)
To mark this milestone T&R Theakston Ltd is hosting a Brewery Open Day on Saturday, 1 June 2013, with the emphasis being very much on "a family day out".
After two takeovers in the 1980s, Theakston's ownership slipped from the family's grasp. However, in 2003, the family – led by Simon Theakston, the brewery's Executive Director – saw the iconic brewery once again back in their hands.
To thank the residents of Masham for their support over the last decade, and also the last 186 years that the brewery has beenbrewing its famous real ales, they are all being personally invited to partake in a complimentary pint of a brand new seasonal Theakston's beer!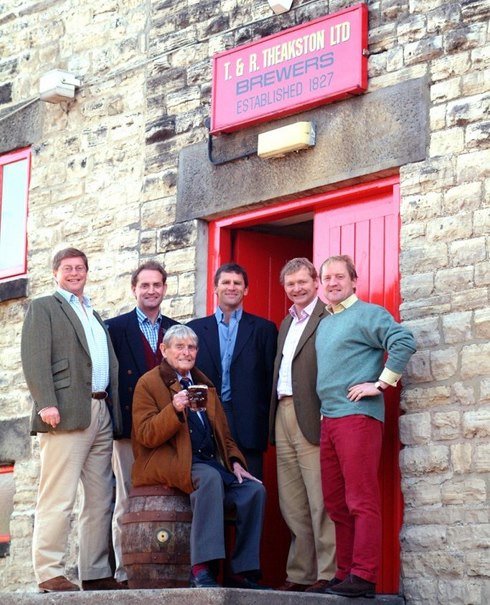 The event, being from noon until 8.30pm, will have all sorts of activities going on for all members of the family.
These include the Purple Playbus, Masham Fire Engine, face-painters, balloon race, live music, guided brewery tours, demonstrations of the ancient art of barrel making, catering, and lots more during the afternoon and early evening.
T&R Theakston Executive Director Simon Theakston said:

When the Theakston family lost control of the brewery in the 1980's no one could have imagined we would get it back again.

It was always our desire and wish that one day the Theakston family would once again own and run the business. That wish came true ten years ago, and what better way to mark this significant milestone than by throwing a family-themed party!

We are holding the event here, at the brewery, and the day will feature a host of activities to entertain the whole family. We are also taking the opportunity to raise money for our chosen charities, Ovarian Cancer and Combat Stress.

Three of our major sponsorships will be represented; the Theakston Old Peculier Crime Writing Festival, Theakston Nidderdale Cricket League and the Ure Salmon Trust Project.

Our Cooper, Jonathan Manby, will be challenging visitors to 'raise a barrel'. It promises to be a great occasion and everyone at the brewery is very much looking forward to the celebration.

We have had a very exciting decade and very much look forward to the challenges of the next ten years.
Further details about the T&R Theakston Ltd open day are available on the website at theakstons.co.uk
  [sam id="4″ codes="true"]