Rossett Acre Primary School in Harrogate are currently looking to recruit individuals to join their board of governors.
The school recently asked the pupils to design a poster to raise awareness of the role and the need of the of governors. The aim is to reach a wider community than just the parents – currently they have enough parent governors. Three governors recently stood up in a whole-school assembly and presented themselves and their roles. They asked the children what qualities they thought governors should have and introduced a poster competition.
The winning poster was by Beth Towler of year 3 with her design being made into their flyer.
Raphael Ploix, one of the Governors at Rossett,  said:

There has been a lot of movement in the governors' body recently because it can be a heavy commitment, difficult to handle alongside a full-time job. There have been a number of vacancies for a good few months now, and this has increased to 6 recently.

The body is formed of 16 governors – staff, parents and co-opted (community) governors. Each governor is assigned a particular area of speciality (safeguarding for me), and belongs to one of 3 sub-committees. So it's about one meeting a month, plus school visits, which we encourage.
Rossett Acre is a well regarded school of  420 pupils. Its moto is  "Excellence and happiness for all" something that the governors are tasked with upholding.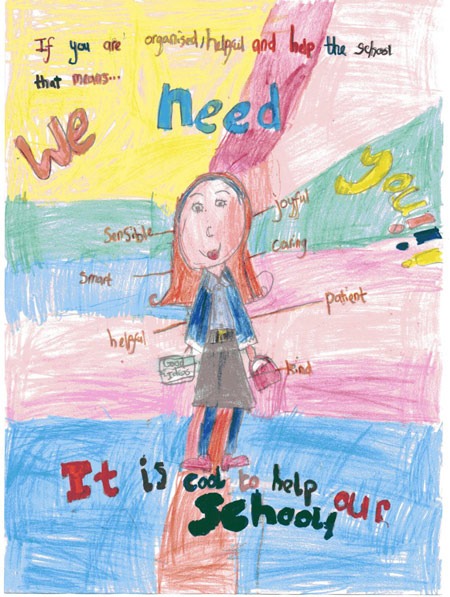 They asked the children what qualities that a governors should have and they said:
Reliable
Helpful
Hard working
Children also said a governor should:
Have time available to commit to being in school on a regular basis;
Be proactive, joining in to make things happen;
Care passionately about giving young children the best possible start in life
[sam id="4″ codes="true"]
Raphael added:

Rossett Acre primary is a fantastic school in the heart of the community. We have around 420 children aged 4 to 11 and over 50 staff. Our motto is "Happiness and Excellence for all" and that is at the centre of all that we do.

We are looking for five people to join our governing body as Co-opted Governors. Governors are a very important part of our school. We support the school but also ensure the school is doing what it should to keep children safe, happy and making progress in all areas of their school lives – our role is often referred to as a "critical friend". It's a very rewarding position.

You do not have to have a professional background or to have worked in education. Nor do you need to be related to a child currently at the school. You may be a grandparent, carer, staff, member of the local community – in fact anyone is welcome to apply. What is important is that you are interested, bring your own experiences and views in a positive way and most important of all, are able to make a regular time commitment to the school. There is no vote, however we would like to invite you into school for an introductory chat.

We hope to find some very special people from within our local community.

We look forward to hearing from you.
If you are interested in knowing more about becoming a Rossett Acre governor please contact Justine Weaver on 07957 146843.