The Programme for the 2013 Great Knaresborough Bed Race has been released.
Sales of the 48-page full colour Programme have begun and copies are available from Knaresborough Lions priced £2.
Apart from listing the teams for the day, the Programme has details of the event, its rules, features on Bed Races of the past, plus stories about local myths and legends – the theme for this year's race.
The Programme also serves as an entry ticket for adults to Conynham Hall grounds – children of 16 and under get in free.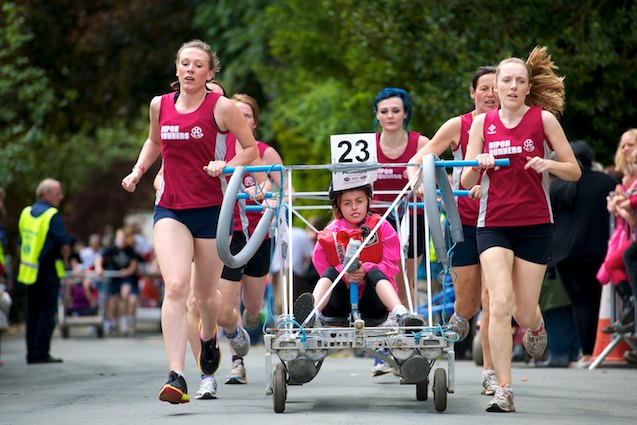 Saturday 8th June 2013
Times and arrangements may be subject to change nearer to the time. Please check with the organisers
10am – 11am
Beds arrive in Castle Ground for dressing and preparation for the Parade
11am
Conyngham Hall Field Entertainments open – Fete, Amusement, rides, bar, food, ice cream and displays
Judging starts for the Best Dressed Bed awards at Castle Ground
1.00pm
Castle Car Park and Castlegate – Procession of Beds, Bands and Floats starts through Knaresborough town centre to Conyngham Hall. Judging of the Most Entertaining Team award is staged as teams pass the High Street.
2.45pm
Conyngham Hall Fields Welcome Ceremony. The Mayor of Knaresborough
3.00pm
Bed Race Starts – team set off on 10 second intervals
From 3.15pm to 4.00pm
Bed Race finishers arrive back. The fastest teams take under 15 minutes to complete the course; the slowest are slightly more than twice that time.
4.30pm
Presentation of Prizes