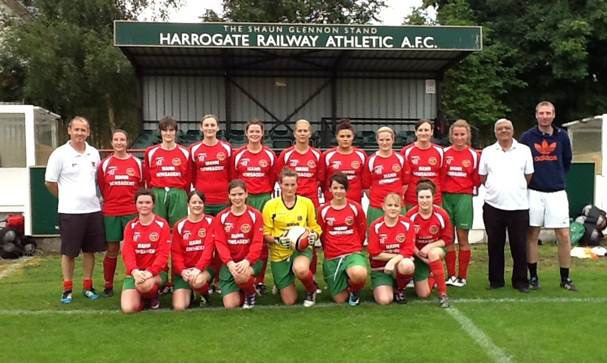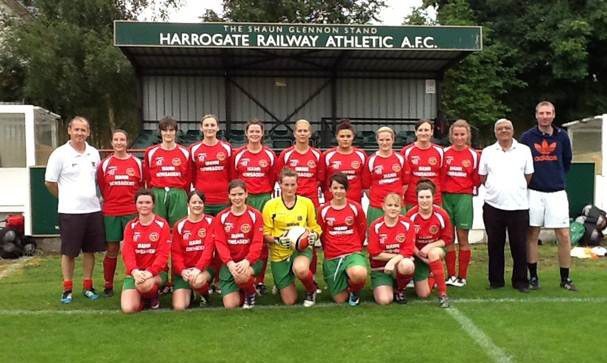 After the defeat on Bank holiday Monday in the cup final (loosing 2-1 against Tingley) Harrogate Railway ladies had to lift themselves 2 days later for a crucial game in the league away to Brayton Belles at Selby on Wednesday night. Needing 4 points from the last three games this could make or break the season, however the Railway ladies came out on a mission and for the first 30 minutes completely dominating the game with Nicola Hadley scoring the first on the 12th minute with a great header. But the concentration dropped of again and Brayton made it 1-1 with a rocket of a shot on the 33rd minute and then scored another soft goal on the 39th minute 2-1.
Railways managers on the side line were beyond themselves at this point, however Railways captain Ally Purvis lifted the girls and within 3 minutes Hannah Campbell had scored twice to make it 2-3 to Railway with the whole team passing the ball as good as they do at training, Half time.
The second half proved to be another great performance from Railway and with the pace being a hundred miles an hour you wouldn't have thought that railway had been in a tough final just 48hrs before. With more goals from Nicola Hadley (3 in total) another 2 from Hannah (3 in total) and another from Dee Swales the game finished 2-7 and the Railway ladies now only need 1 point from two games to lift the West Riding Premier league title for the first time ever.
The Ladies are away to Brighouse this Sunday and the last game of the season is at Station View on Sunday 19th may with a 12pm KO. Please come along to cheer them on.