Harrogate-based CNG, now one of the region's top ten fastest growing companies, has revealed an excellent start to 2013 with a further four appointments.
CNG, which is establishing itself as a real alternative to the major utility firms on offer is fast becoming the commercial supplier of choice across the UK, with customer willingness to recommend hitting 26 points about the industry average (Net Promoter Scores). This increase in interest means the business is continuing to expand with four new recruits across the teams to tackle the workload in sales and billing. A further two new team members have also been brought in to existing roles and student Jack Walls is working in the business to gain industry experience ahead of his university studies in September.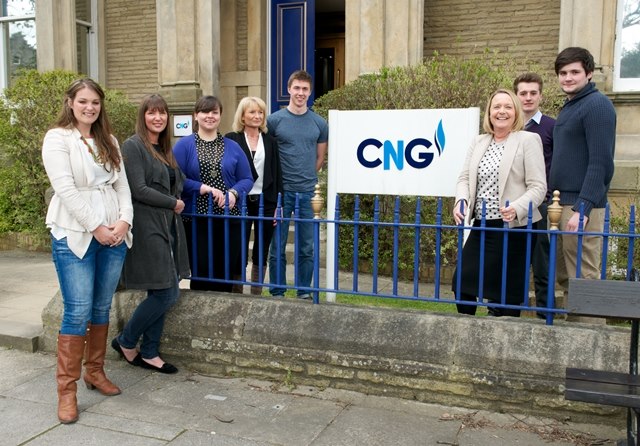 The latest team members have joined in a steady stream from early 2013 and are already playing a crucial role in allowing CNG to maintain the service standards for which it has become synonymous. With backgrounds ranging from retail, sales agents to self-employed business owners and designers, the latest team members complement the broad skill set already proving to be a success within CNG.
Karen Dickens, new to Sales at CNG said:

There is a lot to learn, but the training, support and team spirit within the company converts the enormity of the challenges into a genuinely exciting and rewarding job.
Joanne Gillett, who works in Credit Control added:

Coming from a retail background, I was anxious about making such a significant move in job direction, but everyone has gone above and beyond to make the transition smooth. I couldn't have asked for a better start.
Joanne and Karen are joined by the other new starters in Sales and Billing/Credit Control; they are Nick Harper, Lisa Watson, Amy Gardner and James Chesnutt.
The CNG business is expanding constantly and 2013 looks set to see continued increase in turnover, employee numbers and progression into the next stages of its long-term development; with plans in place to create a CNG electricity arm.
CNG MD Jacqui Hall commented:

2013 is a major turning point for CNG as our growth continues and we make excellent strides in moving the business forward. This is going to be achieved through ongoing appointments of great staff like our latest recruits and the maintenance of high service standards.

The next step for CNG is to really challenge perceptions of this industry with a forward-thinking approach to utilities and customer care. To be seen as a real alternative to the Big Six commercial gas suppliers and for that we need the very best team.