Harrogate rounded off a season of fast, exciting rugby with an outstanding team performance which secured their promotion back to National League 2. Sutton Coldfield's backs certainly lived up to their reputation but hard nosed Harrogate forward play denied them enough possession to strut their stuff.
From the start, both sides tested each other's defences but an early Harrogate offside led to Alex White missing a straightforward penalty opportunity. Sutton then won a midfield turnover and White powered through midfield to give a scoring pass to left winger Rob Watts.
Shortly afterwards, Callum Irvine unfortunately fluffed a straightforward Harrogate penalty kick but their pressure continued and the season's outstanding back, Sam Bottomley cut through the home defence with a 40 metres run. His apparent try was disallowed for a double movement close to the line. More Harrogate pressure followed with forward drives producing a stream of good ball. Scrum-half, Phil Wickham distributed well and kept the home defence honest with some sniping runs. An Irvine shimmy gave Kyle Dench a half chance to score but a slight stumble allowed Sutton's defence to close him down.
Pete Wackett then gathered a pinpoint Irvine crosskick to touch down but was controversially adjudged to have been ahead of the kicker. Sutton then had a period of pressure with No8, Fraser Tait well to the fore and Harrogate's defence was tested. A brave Irvine cover tackle prevented what seemed to be a certain try and the ball was cleared from the subsequent line-out. Noel Minikin then gathered a home clearance and passed to Mike Aspinall whose run created space for Wackett to outstrip the defence and crash over for a try in the corner, converted brilliantly by Irvine.
This made it 5-7 at half time which seemed barely enough as Sutton would have the second half wind advantage. However, the half opened with a scintillating 10 minutes spell from Harrogate which virtually put them out of sight. A big driving maul put Sutton on the back foot, the ball was released and Minikin supported an Aspinall break for a converted try. Minutes later, Minikin did it again, this time in support of a Wackett break.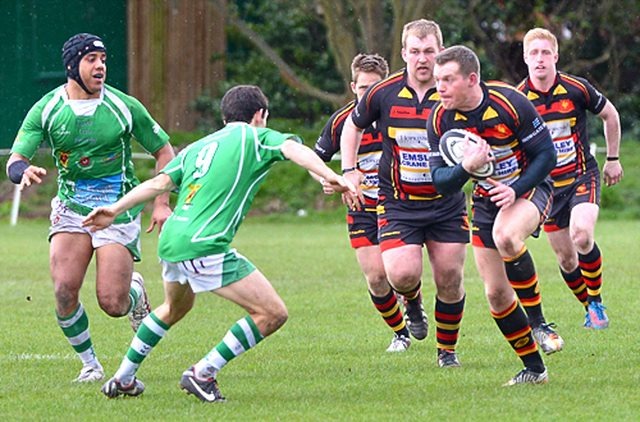 Dave Edwards gave Sutton a glimmer of hope with a penalty kick when Harrogate went offside but the inexorable Harrogate pressure continued. Aspinall created a gap for himself and crossed the line to touch down but this effort was disallowed as the referee had accidentally impeded a defender. A succession of Harrogate driving mauls was illegally stopped and Brook Davies was eventually dispatched to the sin bin. Irvine was then tackled just short of the line after a stunningly long run but Sutton went offside from the breakdown. Jimmy Browne took a quick penalty and Sam Brady burst through the defence for another converted try.
The match ended with a period of play where Sutton's backs showed how dangerous they would have been with a bit more possession. Davies had returned from the bin and his powerful surge released the ball to full back, Dave Edwards whose try was converted by White. Sutton's star winger, Nathan Burchell then seemed to have the line at his mercy but an outstanding Irvine tackle forced him into touch and the last home opportunity had gone.
Sutton Coldfield 15 Harrogate 28
Sutton Coldfield
Edwards, Burchell, Miller, White, Watts, Grom, Rayner, Davies, M Worthington, Harrison,
N Worthington, Evans, Keylock, Harewood, Tait,
Harrogate
Denton, Minikin, Dench, Bottomley, Wackett, Irvine, Wickham, Metcalfe, Maycock, Browne, Harvey, Wilson, J Brady, Smith, Heaton, Aspinall, Yorke, Innes, S Brady
Referee
Rowan Kitt (RFU)
Photographs by Richard Bown