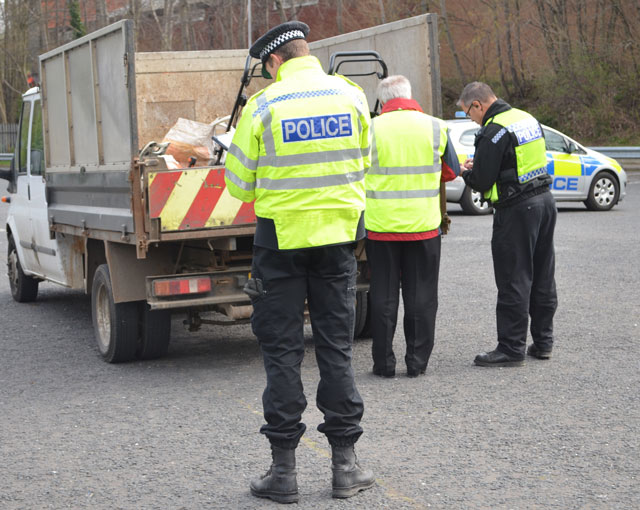 North Yorkshire Police and trading standards officers from North Yorkshire County Council and the City of York Council have joined forces with colleagues across the UK this week to deliver a concentrated multi-agency crack-down on doorstep crime.
Rogue traders and pushy doorstep sellers who use fraud to con vulnerable people into paying for unnecessary or vastly overpriced work to their homes have been targeted as part of the national Operation Rogue Trader week of action.
The week of action runs from 22 to 26 April 2013 and is led by Operation Liberal, the national intelligence unit for distraction burglary and associated travelling criminality, and Trading Standards.
In York and North Yorkshire and across the UK, hundreds of officers have been out on the streets executing warrants, identifying vehicles used by criminals through Automatic Number Plate Recognition (ANPR) and conducting intelligence-led patrols in areas where older or vulnerable people live.
On Monday 22 April, three men were arrested in Ripon on suspicion of a number of offences linked to work being carried out on residential properties in the area.
The men are aged 20, 29 and 35, two are from Nottinghamshire and one (aged 29) is from Leicestershire. Following their arrest, they were handed over to North Yorkshire Trading Standards officers to be interviewed. They have been released on conditional bail while enquiries continue.
North Yorkshire Trading Standards officers executed an arrest warrant in Nelson, Lancashire on Monday morning, to arrest a man wanted in connection with offences in North Yorkshire.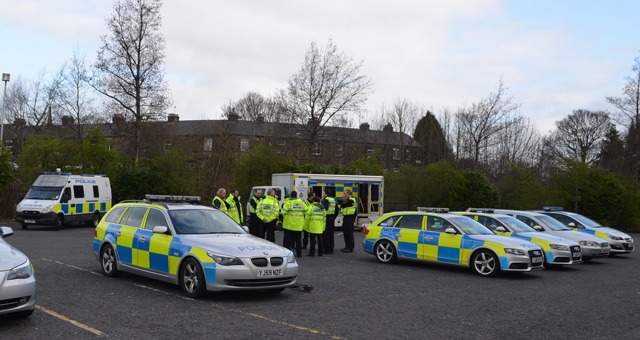 North Yorkshire County Council has also established two, new cold calling zones this week. The entire village of Flaxby near Knaresborough and Springfield in Skeeby near Richmond.
This means anyone who calls unannounced at the homes of residents in these areas could face prosecution. Officers have also been advising residents on how they can establish a no cold calling zone in their area.
Safer Neighbourhood Teams have been holding engagement events and carrying out proactive patrols in their areas, visiting older and vulnerable residents to deliver crime prevention messages. Including the distribution of thousands of leaflets, free door hangers and video presentations with the main message from the week of action – Not sure? Don't open the door! You can watch the video here
Roads policing officers from North Yorkshire Police and the Regional Road Crime Team have used ANPR technology to intercept vehicles travelling into and through the county who are linked to rogue trading and bogus caller incidents.
Officers have carried out spot-checks on tradesmen carrying out work in residential areas, focusing on neighbourhoods where older people live to ensure they have not fallen prey to a rogue trader.
North Yorkshire Safeguarding Adult Board's initiative "Seen it? Heard it? Report it" is designed to raise awareness of abuse against older people and encourage the reporting of abuse, including financial abuse through doorstep crime.
North Yorkshire Trading Standards officers have been distributing posters this week in hotspot areas of doorstep crime to doctors' surgeries, post offices, village shops and pharmacies in an attempt to encourage reporting of doorstep crime incidents.
Funding for the poster campaign was provided by the council's trading standards service using monies recovered from criminals under the Proceeds of Crime Act.
Neighbourhood Watch volunteers have also been spreading the word using the Ringmaster system to encourage people to report suspicious cold callers.
Temporary Detective Superintendent Steve Smith of North Yorkshire Police, said:

Rogue traders and bogus callers pose a threat to communities in how they prey on the elderly and vulnerable assuming they will not be challenged.

We are aware of the devastating effect this type of crime has on its victims and as such, North Yorkshire Police treat it as a top priority. This week's show of force gives us the opportunity to showcase the work which goes on across the county throughout the year by the police and our partners.

These criminals need to know that North Yorkshire and the City of York are no-go areas for their deplorable behaviour and together with our partners, we will pursue them relentlessly and do everything in our power to bring them to justice.

I would urge people who have been the victims of such callers, or have friends, relatives or neighbours who have been targeted, to contact the police.
The week of action follows a successful financial investigation by North Yorkshire Trading Standards in which a gang of six rogue traders were ordered to repay a total of £413,948.35 after conning elderly residents across the country out of £1m.
The gang – five of them members of the same family – were found to have benefited from their crimes to the value of £1,338,047.40. They were jailed in 2011 for a total of 25 years and now face the added punishment of having to repay all their realisable assets.
Ruth Andrews, Head of Fraud and Financial Investigations at North Yorkshire County Council Trading Standards, said:

Our activities this week once again demonstrate our commitment to working with partners to ensure doorstep offenders are fully aware that their behaviour will not be tolerated in North Yorkshire and that we will use all available enforcement tools to deal with their offending.

They should also be aware that this is not just a one-off event and that our commitment remains throughout the year. We continue to do all we can to safeguard vulnerable residents against the frauds and scams perpetrated by these criminals.

Invariably, the victims of these crimes are very elderly and many have dementia and we know that these offenders actively target such victims, often repeatedly. We rely on members of the public, including family, friends and neighbours, and those in local communities such as shop, Post Office and bank staff, to help us in the fight against doorstep crime, and report incidents and suspicious activity to us immediately.
 [sam id="4″ codes="true"]
Councillor Dafydd Williams, City of York Council's Cabinet Member for Crime and Safer Communities, added:

City of York Council's Trading Standards team has also begun investigations into breaches of consumer protection legislation which involves a trader falsely claiming to be a member of a trader's association, and has conducted a formal interview of one trader alleged to be carrying out unnecessary roof repairs.

Yorkshire and the Humber Trading Standards Group – known as the Scambuster team based at City of York Council – has started legal proceedings against five individuals for a total 13 offences involved in a council tax rebate scam.

Rogue traders cannot rest easy in York. With our partners at Safer York Partnership and the police, the council is taking robust action against unscrupulous traders who would defraud residents and legitimate businesses in the city. We're after them.
If you think a rogue trader is at the door, call the police on 999. People should report uninvited doorstep callers to Citizens Advice Consumer Service on 08454 040506.
Anyone with information that could lead to the arrest of any distraction burglar or rogue trader should ring North Yorkshire Police on 101 or, if you want to remain anonymous, call the charity Crimestoppers on 0800 555 111.