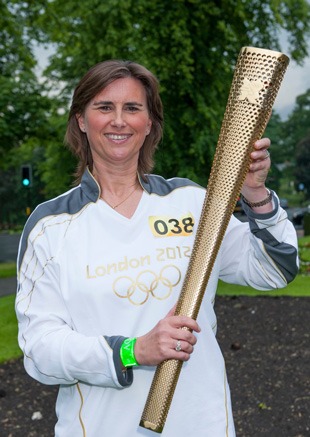 Despite the gloomy economy, the Harrogate and Ilkley-based charity, Acorn, continues its success by raising £72,000 in its 14th year.
Acorn raises money to support people with dementia and their carers in the Ripon and Harrogate area and research into scleroderma disease at Leeds General Infirmary. The Acorn Committee was founded in 1999 by Louise Hanen whose father, Luc, had been diagnosed with early onset (working age) dementia in his early 50s.
The Acorn Charity divides its funds equally between helping people with dementia locally, and research into scleroderma, a disease which attacks mainly women in their mid-years for which there is currently no cure.
The Rheumatology Department at Leeds General Infirmary is a world centre for excellence for the treatment of scleroderma and is led by Professor Paul Emery and his team.
The Acorn Committee has now raised over £860,000 from a whole range of fundraising activities from balls to bike rides, golf and tennis tournaments, sponsored walks, bridge days, fairs and cabaret evenings. Last year's Acorn Sponsored 100k Bike Ride in May raised over £32,000 with a record 560 cyclists taking part. The Moonlight in Marrakech party which took place in a Papakata tent in December raised over £22,000. New events this year were the Art and Shopping Fair which raised £1,600 and the world-class saxophonist Snake Davies who gave a private cabaret generously hosted by the Hotel du Vin which raised £3,500.
Acorn supports a host of activities for Dementia Forward in the Ripon and Harrogate area including outings and holidays, luncheon clubs and much-needed respite.
The money raised by Acorn has also helped to buy equipment and fund a research fellow at Leeds General Infirmary, and the Department of Rheumatology at Chapel Allerton Hospital in Leeds includes an Acorn Room where patients are advised on their treatment.
Louise Hanen said:

We have had another brilliant year for Acorn with the Sponsored Bike Ride setting new records for cyclist numbers and our tennis, golf and bridge days are exceptionally well supported. We were thrilled to enjoy a wonderful evening with Snake Davies and I continue to be amazed by the generosity of our supporters, many of whom have been involved with Acorn from the start.
The next Acorn event is the annual Acorn Sponsored Bike Ride on Saturday 11th May. For more information about this and other Acorn events, please contact Louise Hanen on 01423 734876 or go to www.acorncharity.org.uk