This was a game of fast running rugby, played in dry sunny conditions. Harrogate's backs had the edge throughout and they secured the necessary bonus point win to guarantee a play off promotion match next week. Forward power play was distinctly lacking so Harrogate will be looking to their backs to do the business at Sutton Coldfield.
The game opened with waves of Harrogate attacks. Callum Irvine and James Audsley-Beck both came very close to scoring and Becky also put in a crunching cover tackle to end an attempted Billingham break out. Harrogate were then penalised for handling in a ruck and the Billingham penalty sparked off a period of sustained pressure on the Harrogate line. The Harrogate defence went offside and Anthony Hyndman scored from a quickly taken penalty. Both touch judges signalled that the conversion was good but the referee overruled them and the score remained at 5-0.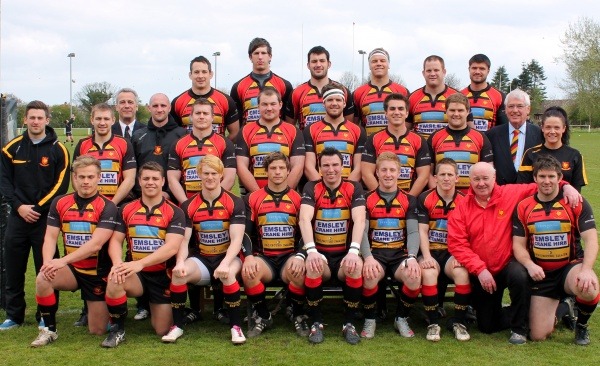 A Mike Aspinall break then gave Becky the ball with some space in midfield and he split the home defence with a dazzling 30 metres run for a try converted by Irvine. Further Harrogate attacks followed and Dan Metcalfe supported the backs for another converted try. Still more skilful back play created the next try and this time Steve Maycock was the forward who supported the move to score.
Another Harrogate attack ended with a spilled pass in midfield and Billingham quickly countered to pressurise the Harrogate line. Harrogate went offside and a quickly taken Billingham penalty was illegally stopped by Metcalfe. He was duly dispatched to the sin bin and Billingham tapped and ran again to create Hyndman's second try, converted by Pete Evans.
Billingham strove to take advantage of their numerical advantage at the start of the second half but the Harrogate defence held firm and turnover ball set up an attack from which Dench crashed through to score a converted try. More well created attacks followed and scrum half, Phil Wickham squeezed over to score in the corner. Irvine's touchline conversion was given by both Touch Judges but, for the second time in the match, the referee overruled them and the score remained at 12-31.
[sam id="4″ codes="true"]
Billingham continued to make a game of it and Elliott Husband scored the next try from one of their trademark quickly taken penalties. They did it again a few minutes later and this time it was stand- off, Joe Evans who scored. Stung by this, the Harrogate backs went back into overdrive and Tim Heaton supported a move for the game's final converted try.
Billingham 22 Harrogate 38
Billingham
P Evans, Husband, A Hyndman, C Hyndman, C Shepherd, J Evans, Finney, Cranston, Reay,
S Smith, Rumis, Dalton, P Shepherd, Robinson, Burns, M Evans, Youdale, Turnbull
Harrogate
Denton, Aspinall, Dench, Bottomley, Audsley-Beck, Irvine, Wickham, Metcalfe, Yorke, Browne, Harvey, Wilson, J Brady, N Smith, Heaton, Davies, Maycock, S Brady
Referee
Nick Ramsden (Northern Division)