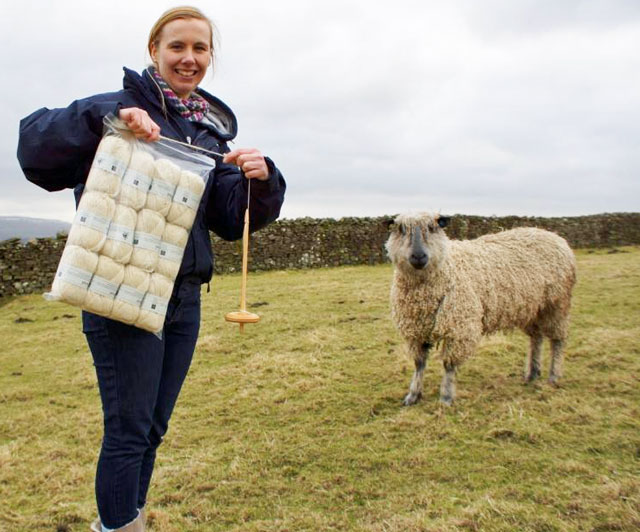 Staff at a North Yorkshire castle are weaving wonders with rare breed sheep being kept on the grounds as part of on-going re-introduction programme.
The Wensleydale Longwools were re-introduced to Bolton Castle, Wensleydale, last year, and their wool is now being spun and sold to visitors along with a number of specially designed knitting patterns.
As a breed, the sheep originated in the region they take their name from, in which the Castle is a major attraction. The breed was developed locally in the 19th Century by crossing English Leicester and Teeswater sheep.
[sam id="4″ codes="true"]
Another rare breed re-introduced by the castle in 2010 is wild boar. Classified as dangerous wild animals, they are housed in a four-acre fenced enclosure.
Bolton Castle's General Manager, Katie Boggis, said:

These rare breed sheep were 'created' in the 19th Century and are particularly relevant to the castle for two reasons.

Not only are they a local breed with the first ones being bred very nearby, in medieval times there would certainly have been similar looking long wool sheep kept at the castle and surrounding areas.

The sheep, plus wild boar, are helping to give visitors an idea of what life would have been like at the Castle over the past 600 years.

Wensleydale Longwools have been categorised as 'At Risk' by the Rare Breeds Survival Trust in UK. As there are so few registered breeding females, it is extremely important that we don't let breeds like this disappear.

The wool they provide is of a very good quality and incredibly warm. We have now collected a sufficient amount of wool, which has been cleaned and spun into yarn.

We are now selling the balls of wool, which come with tried and tested knitting patterns. However, the stock is limited, but we will be replenishing it when the sheep are shorn.
Wensleydales are one of the largest breeds of sheep, and have a fleece with long, ringlets of high-quality wool.
One of the chief reasons this wool is so sought after is that it contains very little or no kemp (a brittle fibre that does not readily accept dye) compared to other breeds. It is predominantly used today as a ram breed for crossing, as well as for its wool.