Raworths, one of Yorkshire's longest established law firms, returns as title sponsor of Harrogate International Festivals' burgeoning literature festival for the second year.
The 2013 Harrogate International Festivals' Raworths Literature and Lecture Series will take place 11 to 14 July at the St. George Hotel, Harrogate.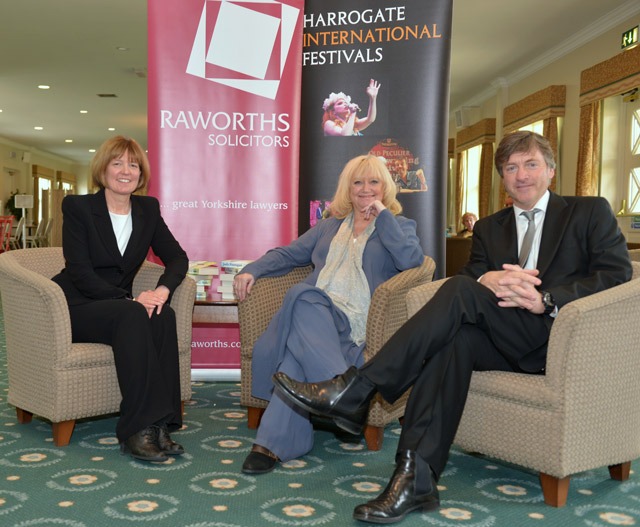 Zoe Robinson, managing partner at Raworths said:

This year promises to be even bigger and better. Raworths has a reputation as one of North Yorkshire's most prestigious law firms and we are delighted two great Yorkshire institutions have come together to deliver a bespoke literary event of such excellent calibre. Harrogate International Festivals has a longstanding reputation of nearly 50 years as a leading arts organisation. We are committed to Harrogate and proud to be supporting the delivery of arts in the area and enhancing its national reputation as the Jewel of the North.
[sam id="4″ codes="true"]
Laura Givans, Literary Festivals Manager for Harrogate International Festivals, said:

We are delighted to welcome back Raworths as our headline sponsor for the Raworths' Literature and Lecture Series. This year's exciting programme includes literary and popular fiction, politics, food, music, classics, autobiographies and travel. We are also celebrating a number of anniversaries in our theming around Jane Austen's Pride and Prejudice, Benjamin Britten and embracing strong women, freedom and exploration around suffragettes and the Emancipation Act.
Raworths became the inaugural sponsor of the bespoke literature festival in 2012 to celebrate the law firm's 125th anniversary in Harrogate. It's a key addition for the diverse arts portfolio, which alongside the annual Summer Festival delivers a year-round programme.
Sharon Canavar, CEO of Harrogate International Festivals, said:

We've doubled the economic impact on the town to £8.2m in two years.  We're proud to deliver the renowned international music summer festival while pioneering new ground and we're committed to continuing that success approaching our 50th anniversary.
2012 featured a diverse programme including a Children's Festival, Movies on Montpellier Hill, and the 'Salon' – one of London's hottest trends offering a night of stimulating ideas in art, science and psychology.  It also escaped conventional venues attracting new audiences with a Spiegeltent delivering a bohemian programme of music, comedy and dance.
Sharon added:

As an arts charity, only 2% of our income is from public money and so we are very welcome of support from the business community. Raworths is a modern, forward-thinking firm based on traditional values and expertise which perfectly encapsulates the exciting growth of our literature weekend out of our ever-evolving festival programme. Harrogate continues to attract the biggest names in publishing which shows what exciting innovation is possible when the business community steps up for the arts.
The full programme will be launched in April.
ENDS
http://www.harrogateinternationalfestivals.com