TONIGHT (Thursday)
Someone from made in Chelsea is at the Viper rooms tonight. If that's for you, great, but personally, just typing those words made me do a sick. That said, lots of people are into that kind of thing, and it will be pretty busy down there to see "someone off of TV".
For something a little different this evening try Rehab; From 10pm onwards its business as usual with myself downstairs playing Rock, Pop & Guilty pleasures whilst Dj Tex is Upstairs doing R'n'B…. BUT tonight from 8pm Ula (from Saucy Lingerei shop Uh-La-Laa on Kings Road) is running a second Charity Zumba night. The first one was a great success and everyone is welcome, its still a bit of a weird phenomena for me this "keep fit in a nightclub" thing, but it looks like lots of fun and surely beats sitting on the sofa eating pizza wondering why your chest hurts…
The Alexandra has has a slightly more straightforward night with live rock music from Dr. Coxx who do "high Energy" classic Rock and Indie at their regular Thursday Sesh which is always a busy night of free live music.
I'm lead to believe that Dj Toby Skinner is back at Revolution on Thursdays playing upfront pop and club tunes, so if you are after a straight up night of clubbing check it out, Toby is an excellent Jock when he's playing underground stuff, so one would hope his mad skills transfer to the mainstream as well.
FRIDAY
Kicking off the weekend Christies has the Matt Goldberg band playing on Friday, as part of their weekly live music thing, which runs, would you believe, every week. I don't know anything about the Matt Goldberg Band per se, however Christies is one of my favoured drinking holes in town as it's small enough to be cosy and big enough to have a great atmosphere, so their live Fridays will be worth checking out!
There's more live music on Fridays too, at the Den they have Fauns headlining, with support from Oscilantern and Dave Sowden. The only one of them I am familiar with is Dave Sowden, who is a funny, funny man. Afterwards they have Dj Monkey, who is a funny, funny looking man.
"Electro Circus", is a night of upfront club tuneage with Dj's Sam and Jack, who, as I've mentioned before in thisweekly thing, are very good DJ's and provide a good solid night of clubbing.
The Empress on The Stray ran a big night last week for Comic Relief and if you want to see some of their "wacky an-tics" check out their facebook page, facebook.com/theempressonthestray for an epic 10 minute video of some very dodgey miming and questionable fake boobs… Props to Dj Tim Paul who put it together, as whilst he perhaps has too much time on his hands, it is pretty funny. And one of the bar maids is a stone cold fox! Currently The Empress has a cracking pint of Daleside Blonde, plus I've got to say their Carvery is ace as well, if you're peckish.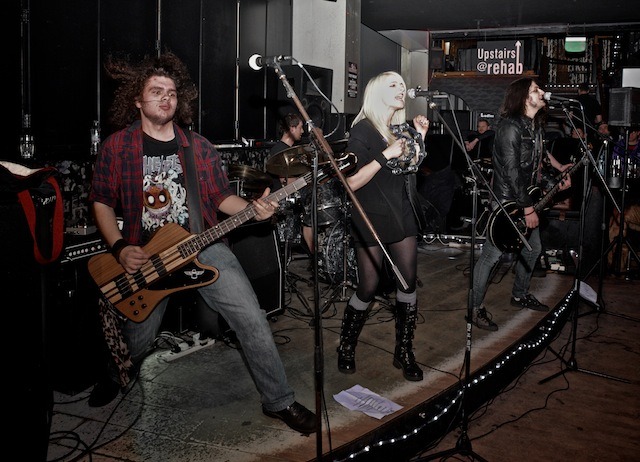 SATURDAY
Christies pub on Kings Road has a proper "Pub Disco" every Saturday, with Dj Sean "The Bear" Mcgrath playing the best of it all the way from the 60s up to modern stuff, Sean is a great bloke just don't get in between him and his pint!
I'm back at the Den tonight as the second part of my 2-week-on-2-week-off residency, it see's me playing all kinds of music to assist you with your drinking problem. Requests are sort of welcome, but only if you're polite and buy me a flavoured latte, as on Saturdays I don't get drunk as I get more annoyed by people's stupid requests if I do…
Rehab operates two floors on Saturdays, downstairs has Dj Wayne and friends playing up front dance mixed with clas-sics, while upstairs "Stereotype" carries on the party with "your" Dj Pieman and lots of early 00's pop punk, Rock and party tunes, so there's the best of both worlds there if you like your tunes big and your Dj's bouncey.
As ever, if you are on for a late one head to Smooch at Moko, it is a crap name for a really good night, lots of decent club tunes to keep you going, and it also tends to be the destination for all the bar staff from various venues around town once they've finished up, so if you are trying to stalk, lets say, Biffy from Montey's, you can send him a Jagerbomb over and he is LEGALLY OBLIGED to drink it and smile at you….
SUNDAY
Only one listing for Sunday, as perhaps everyone is saving their energy for next weeks Bank Holiday weekend, so mainly this Sunday has the second semi (heh) final in the Battle of the Bands. Last week saw a quality contest and a really busy turn out, this week there's ElecrtoRockers Summer City, Prog Power boys Pseudonympho, Indie outfit Recovery and Polished Pop Punk crew The Wilde battling it out for the right to play against last week's winners the Superlatives and Pips.
Of course, as a night I'm heavily involved in, I'm bound to say it's good and is going well, but it is, it is, and at least I'm not on facebook every 2 minutes telling you "OMG we're so packed, VIP tables have sold out get involved". Mainly as for me, VIP doesn't mean "Prepared to pay extra". Miaooooww.
If you are in rather than out on Saturday night, as ever my weekly internet radio show goes out at 10pm on
www.harrogatealternativeradio.co.uk , there's not much of me Dj'ing in it this week, as I'm presenting two guest mixes, from Dub Reactions who are an underground Dubstep duo from Bradford, and Dj Sixus, and as I write it is sounding like it's gonna be a good show. There is a bit of ruddy strong language, as there is on my facebook.com/djtrev so you've been warned, and if you'd like to listen to some of my old show's you can at www.mixcloud.com/djtrevuk
Thanks for reading, drink responsibly and don't be loose with your affections.
Trev x x x