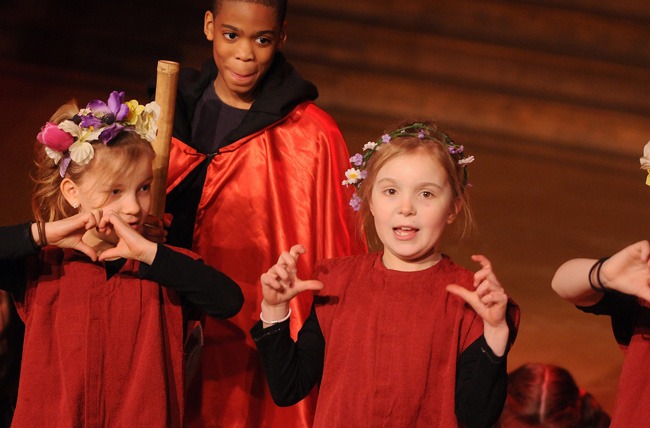 In just one term, Harewood pupils have rehearsed and performed their own version of Shakespeare's The Tempest, with a little help from Harrogate Theatre and the Grammar School at Leeds (GSAL).
Under the direction of Harrogate Theatre's education leader, Hannah Draper, the 18 Year 4, 5 and 6 pupils from Harewood C of E Primary School have met once a week after school to prepare the play, which they staged at GSAL for their families and friends last week.
Hannah Draper said:

The Tempest is a fun story with magical characters, so it's a great way to introduce children to Shakespeare. We've used a mixture of modern and traditional language so they won't be afraid to try more Shakespeare in future.
[sam id="4″ codes="true"]
Judith Kerr, deputy head of English at GSAL, reviewed the show for the cast:

You filled the room with your voices and owned the stage. We lost ourselves in your specially created world and I was enthralled from the moment I walked into the room to the music. You have adapted the play to suit the players just as Shakespeare would have done.
Mr Rupert Madeley, headteacher at Harewood Primary, said:

I was very impressed with the quality of performance and I am grateful to the theatre and GSAL for this opportunity. The drama workshops have allowed the children to extend themselves and build their confidence. Through drama the children develop essential learning skills, teamwork, and the ability to learn new things and put them into practice.
Harewood C of E Primary School is the second local school to benefit from a term of after school drama workshops, which have come about through a partnership between Harrogate Theatre and The Grammar School at Leeds. Each term the theatre's education department will work with a different school to run after school drama workshops, culminating in a performance at Harrogate Theatre or in GSAL's theatre.