Plans for the redevelopment of a Harrogate industrial site, once occupied by a major mattress manufacturer, go under the public spotlight next week. (Tuesday, 19 March 2013 and Wednesday, 20 March 2013)
The former Dunlopillo site, located in the village of Pannal, is to be totally transformed if plans, which include the building of 120 houses – 40 per cent of which will be affordable family homes for local residents and key workers – are given the green light by the local authority this summer.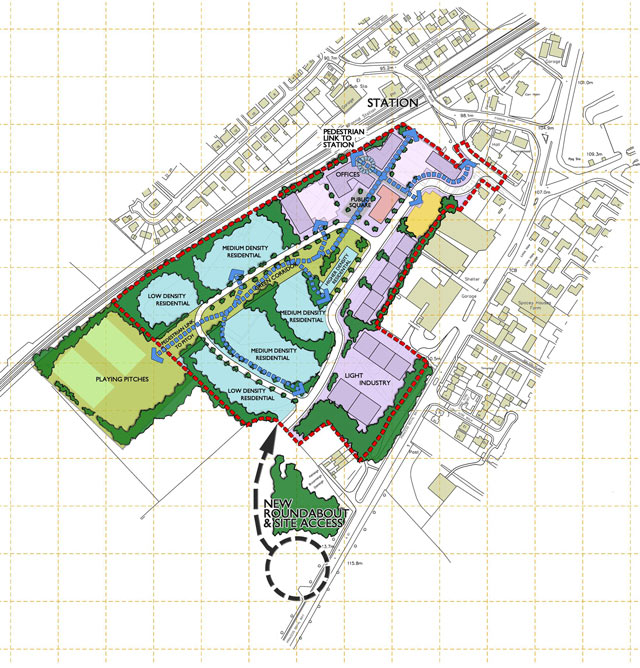 In addition to the houses, the 12 acre mixed-use site will include:
Five acres of employment land
Sports pitches
Children's play park
Park & Ride
Enhanced parking for the railway station
New access road and roundabout on the A61 at Princess Royal Way
The plans submitted by Forward Investments LLP will be on public display in Pannal Memorial Hall from 2pm-7.30pm and Tuesday, March 19, and from 4.30pm-8.30pm the following day.
[sam id="4″ codes="true"]
Representatives of the project team will also be on hand to answer questions from visitors.
Rupert Visick, of commercial property agents Gent Visick, said:

We are hoping as many local people as possible come and view the plans for the former Dunlopillo site. We will be asking them for their views, as local opinion is important to us.

This is a totally different proposition to the scheme put forward, and rejected, a few years ago. It will be a mixed use site which, in addition to helping to alleviate the shortage of houses to the south of the town, will also provide employment land for small businesses.

The Dunlopillo site is classified as a 'brownfield' site, and developing it will take an enormous amount of pressure off the Crimple Valley, which is green belt.

It is our intention to submit the plans to Harrogate Borough Council's planning department in May, with the hope they will go before the planning committee in August or September.

If they are approved, it could be as early as August 2016 when work begins to transform what many consider an eyesore.