The 2013 Crucial Crew has again been running in Ripon – 27 February to 13 March 2013 and now in its 22 year.
Schools attend from Harrogate, Knaresborough, Pateley Bridge, Ripon, Boroughbridge and many rural schools, in total giving 96 schools participating with around 2,000 year 6 (aged 10 to 11) attending over the two weeks at the Ripon army barracks.
Each day has two groups of children from a number of different schools. They work on a 10 – 10 – 10 principle, with 10 groups, spending 10 minutes on 10 scenarios.
The key messages delivered are around citizenship, safety and behaviour
The event is a multi-agency event, organised by the North Yorkshire Police with support from:
West Yorkshire Police
North Yorkshire Fire and Rescue
Young Carers
Magistrates
School Nurses and Harrogate Borough Council Leisure Department
Ministry of Defence Police
Harrogate-News spent time with All Saints C.E. school as they worked though a number of the stations. The messages given are snappy and pitched to be appropriate for the age watching. They aim to be highly visual and interactive and send the children away with a few keys messages.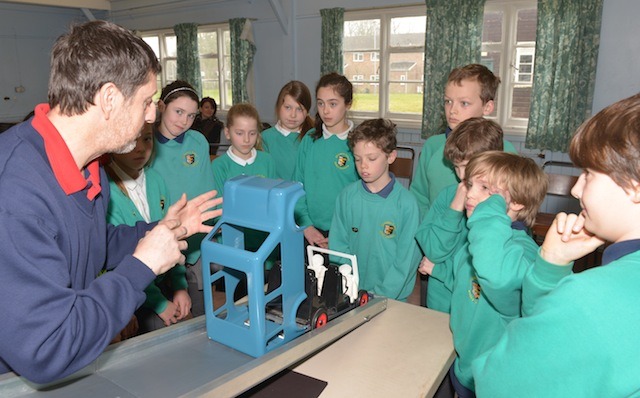 One session looked at road safety and the need to wear a belt, demonstrating the effect of not wearing a belt using a model.
Through all the sessions the children sat intently, listened, asked questions and got involved. You could almost hear the cogs wiring in the children's heads at times.
Moving on to a session with the Fire Service, the children were taken into a typical child's bedroom. They were shown some of the typical hazards and what to do if there was a fire. Emphasis was given that
In ten minutes it can't get convey very message, but, it doesn't need to, as it starts the thinking process within the children that continues back at the schools and at home.
Mrs Savage from All Saints C.E. School in Kirkby Overblow said:

The children have been able to experience lots of different situations including how to make a 999 call.

Crucial Crew is raising awareness of many issues that may affect them including internet safety, fire safety and drugs to name a few.

It was a great morning and I learnt a few things myself.
For the second year, the magistrates attended and showed a mock court set-up that gave a stern message that a court conviction would live you and could affect you in later life.
The children also received advice on water safety, first aid, being a young carer, online safety and drugs.
They also gain the support of volunteers to help on the day and this, like other years, has included staff from Asda and pupils from Harrogate High School. The pupils from Harrogate High School help with role playing and making each scenario as realistic as possible.
Superintendant Aubrey Smith, the Commander for the Harrogate District, is very supportive of the event, providing officers over each day for the sessions. Paul Stephenson from North Yorkshire Police, their Youth Officer, takes a key role in planning and making the event happen. Paul co-ordinates the event and essentially brings things together.
Harrogate District Commander, Aubrey Smith talks to the children

The work that Crucial Crew delivers across the community influences good citizenship.

The lessons are around keeping people safe and the lessons learnt can protect themselves and others in later life.

We are very supportive of the initiative.
Each school also receives a work booklet to allow the work to continue.
There is also a website www.crucial-crew.org/york-and-north-yorkshire/ that can be used by all.
It is difficult to estimate the full benefit this gives to the children, but without doubt, Crucial Crew helps to saves lives and helps to build good citizens for the future.