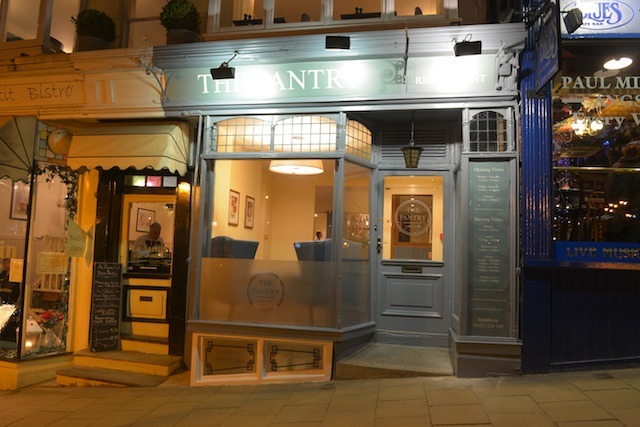 The Pantry is a new restaurant to Harrogate, occupying a picturesque location overlooking the Montpellier Gardens in Harrogate – it is set to open its doors this Friday, 22 February 2013
The restaurant is a different to many of the recent restaurant openings in town, in that it is privately owned and operated. The fair will be quintessentially British and produce sourced predominantly in Yorkshire.
Chef and proprietor, Jonathan Elvin has worked in many well known restaurants, including time with Gordon Ramsey and has recently returned to his home town of Harrogate to pursue his dream to open his own restaurant.
Jonathan said:

There has been a great deal of hard work gone into the new restaurant over the last two months and we are now in the final stages and nearing completion.

The building was taken back to a bare shell and has been completely renovated at a significant cost.

There's all new kitchen equipment installed and we are just fine-tuning the table layout a little.

The new bar is looking really good and being stocked with many drinks that you will know and perhaps some that will be new to some people.
Mathew Dealy
The concept of the restaurant is simple – create modern british dishes using locally sourced produce.
Apart from managing the day to day development of the building, Jonathan has been meeting many Yorkshire suppliers and sampling many products. He is very proud to source his meat, fish, and fresh vegetables within Yorkshire.
Jonathan said:

It has taken a number of months to source our produce and we are very luck and proud to be sourcing the majority within Yorkshire.

Local gives us much more control of the quality and a shorter supply-chain. That gives the farmer a fairer price and also allows us to have more confidence in what we are receiving.

The companies we are working with I know really want to give us the best quality produce.
Bradford – based Deli fresh will provide the fresh fruit and vegetables.
Robert Ramsden of Deli Fresh said:

We are excited to be working closely with the new venture and are looking forward to be involved in inspiring the menu with all the seasons have to offer.

Delifresh offer far more than the normal fruit and vegetable supplier and we pride ourselves in being able to service chefs to this high level.

We are always actively seeking ways to innovate and drive flavours forward to offer the producer/grower a better route to market and to gain them the recognition they deserve and to also offer our customers the best the seasons has to offer.

To name a few, Richard Snowdent grows unbelievable salad items, Richard is based at Harewood and is passionate about the produce that flows out of the land, oak leaf, lollo, endive, radicchio, even Yorkshire melons. Richard Morrit based at Stamford Bridge who grows our Yorkshire asparagus and soft fruit in season , Mark Palmer at Ripon who grows Beetroot, squash and the amazing Yorkshire garlic, Robert Tomlinson in Pudsey who grows our Yorkshire Forced rhubarb, kale, Cabbage , Broccoli the list goes on and on.
Jonathan, along with his Sommelier and front of house manager,  Lydie Jeannerod have had the enviable task of selecting the wines and drinks suppliers.
Rudgate Breweries in Tockwith have been brewing beer for over 20 years and have been chosen to provide a range of bottle beers.
The brewery uses many UK grown ingredients and a special secret yeast, that they say, gives them an edge.
Craig Lee, owner of Rudgate Brewery said:

We are proud to have been selected to supply The Pantry with our bottled beers, brewed here in the Vale of York.

It is fantastic to see a local company supporting and working with local suppliers.

We wish Jonathan and the team all the best with the new venture.
Front of House Manager and French-born, Lydie Jeannerod added:

Beer is becoming a popular accompaniment to many meals and we wanted to make sure we had some great ones available. I am really pleased to have Rudgate beers as I think they will work very well with many of the dishes on the menu.

I have also being selecting the wines for our wine list. The aim is to have some great special occasion wines but also wines to suit all budgets.

We have also sourced some lovely English wines too with a Shawsgate Bacchus 2011, Ridgeview Grosvenor 2010 and particularly nice red, Bolney Dark Harvest 2010.
Jonathan added:

The menu contains some of my favourite dishes that I have made many times before, such as Pressed Old-spot Pork with apple sauce and crackling, East coast shellfish cocktail with bloody mary relish and Rice Pudding with homemade blackberry Jam with shortbread crumble.

We also have development some new dishes such as Dark Chocolate brownie with jaffa cake ice-cream, beer and onion soup with little welsh rarebits and cauliflower and macaroni cheese with mature Ribblesdale and green salad – the mature ribblesdale has strong flavour and similar to a parmesan.

The menu will be seasonal so we make the best of the produce that's available at the time.
The restaurant will be opening on Friday 22 February 2013 and are taking bookings now – 01423 224290
or follow the developments on Facebook