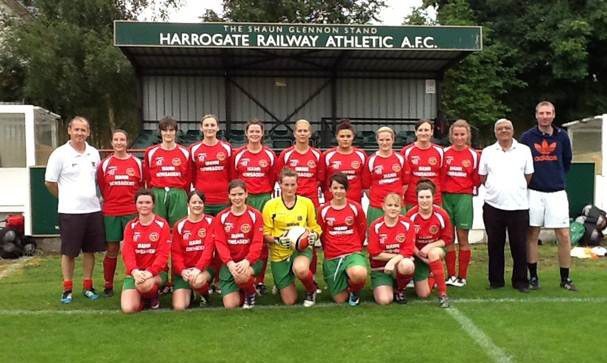 Harrogate railway Ladies finally got to play football this week (13-1-13) after 9 weeks off due to weather and cancelled games due to cup rounds. This match was away against Tingley who are the main challengers for the league at the moment, the 9 week break showed as Railway were crushed 6-3 buy a younger and fitter team. Tingley were by far the better team and after 30 minutes found themselves 3-0 up. Railway did have chances but failed to put any away until 1 minute from half time a great strike from Dee Swales found the target.
After a strong talk from the manager it looked like Railway could bring themselves back into the match being 3-1 down, however Tingley went for the kill and only 10 minutes from the restart Railway found themselves 5-1 down!! Railway just did not look like a team who had not lost a single point in the league so far, but they certainly did not look like championship winning team they hope to be this year, poor passing, bad player marking and just not good enough to beat a average keeper.
Railway did get a good spell on the hour for ten minutes or so, as first Nicola Hadley scored, shortly followed by Emma Lansdall. Both goals were well taken but the chances only came as Tingley got greedy and pushed all but 2 defenders up for more goals. This corrected tingley stood strong and got another goal 10 minutes from time, final score 6-3.
Next week Railway are at home against Bradford Park 2pm KO subject to the snow and frost.