For the final 10 minutes, Harrogate had 2 players in the sin bin and this enabled Kendal's Liam Hayton to score a consolation try. However, the 13 Harrogate players continued to attack and, in the final move of the match, Oli Denton scored in the corner for Callum Irvine to convert.
Chester's home loss to Lymm narrowed the gap at the top of the table and, if Harrogate had played less frenetic rugby, a fourth try would have earned them an invaluable bonus point. A more worrying statistic is that 2 key players sustained serious injuries. Pete Wackett's torn hamstring could keep him out of commission for a while and Max Lewis's badly broken arm has almost certainly ended his season.
From the start, Harrogate outscrummaged the vaunted Kendal pack to produce a stream of good ball. This led to waves of their trademark attacking rugby but a strong home defence coped well. The pressure eventually forced Kendal to go offside and an Irvine penalty opened the scoring.
Wackett, Kyle Dench and Sam Bottomley combined brilliantly in further attacks but the greasy conditions led to knocks-on in try scoring situations. A 20 metres driving maul took play to the Kendal goal line and the ball was released and spun wide. Scrum half, Phil Wickham, supported the break which he'd created and scored a fine converted try.
The experimental "Rolling Substitutions Law" then led to Harrogate making planned forward changes which lessened their scrum domination. However, they were still the dominant side and forced Kendal to go offside again. Irvine's penalty made the interval score 0-10.
At the start of the 2nd half, a powerful Harrogate scrum sparked another backs attack. Full back, Denton joined the line from deep to split the defence for an excellent converted try. Lewis's unfortunate injury changed the pattern of Harrogate's back row play but Chris Wilson stole the ball from a retreating Kendal scrum only for yet another knock-on to thwart a scoring opportunity.
Prop, Dan Metcalfe was part of a powerful Harrogate scrum and contributed well to some excellent loose play. The industrious forward play of Tom Harvey, Jake Brady & Tim Heaton stood out but, amongst the many excellent backs, Bottomley had an absolutely outstanding game. Wackett's injury led to him being moved from the wing to the centre where he performed equally well.
In spite of Kendal's low League position, it's always a tricky away fixture and so it proved today. Dench & Heaton's departures to the sin bin for technical offences led to more attacking Kendal play and Hayton's well deserved try. However, in the dying moments, Bottomley and Mike Aspinall set up another Harrogate attack which led to Denton's 2nd try and another Irvine touchline conversion.
Kendal 5 – 27 Harrogate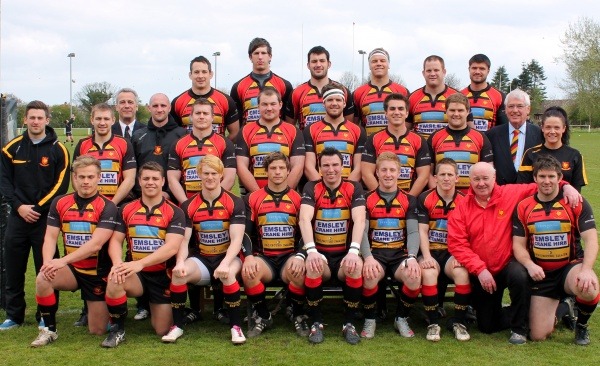 Kendal
Park, Mercer, Doleman, Lowther, Nayo, Rayson, Davidson, Livesey, Green, Harryman, Hayton, Tomlinson, White, Holmes, Quarry, Houghton, Redhead, Voortman
Harrogate
Denton, Minikin, Dench, Wackett, Bottomley, Irvine, Wickham, Metcalfe, Green, Browne, Harvey, Brady, Wilson, Heaton, Lewis, Aspinall, Yorke, Smith
Referee
Dean Lythgoe (Northern Division)