Although this was a satisfactory result, Harrogate could and should have scored several more tries in a match which they largely dominated. Efficient forward play, in the tight and the loose, produced a stream of good ball and some dazzling back play produced 5 tries. However, some bad decision making and a number of questionable refereeing decisions denied Harrogate a really big score.
Straight from the kick-off, a slick backs build up resulted in Pete Wackett scything through for a fine try converted by Callum Irvine. Minutes later, another creative move gave them a clear overlap in the Burnage 22. A straightforward scoring pass would have extended the lead but the centre went for personal glory and was well tackled.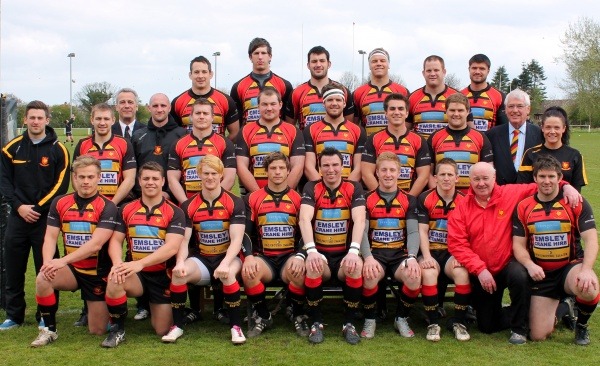 Burnage's driving mauls were their main strike weapon and they mounted pressure on the home line with No8, Ralph Lawson at the heart of everything. Harrogate "came in from the side" to give the normally infallible Ross Winney a very kickable penalty opportunity. He missed this chance but, shortly afterwards, an almost identical offence gave him another go which he kicked to open Burnage's scoring.
Burnage had scrummaged well against Harrogate earlier in the season but the home pack was in complete control this time. Aarin Yorke made his season's debut at hooker after a long injury lay-off and was his usual electric self. Props, Jimmy Browne and Dan Metcalfe were in complete control and powerful runs from Max Lewis and Tim Heaton kept Burnage on the back foot. Stand-off Irvine mixed his game well and Wackett and Kyle Dench combined exceptionally well in the centre. A half chance was created for winger, Sam Bottomley who showed strength and guile to break through tackles and score Harrogate's second try.
A Harrogate ruck offence led to Dench being sin binned and gave Winney his third penalty goal but, just before the interval, Irvine kicked 3 home points when Burnage went offside.
Burnage attacked from the restart and put an attacking kick into the left corner. Bottomley fielded the ball and it seemed that he would be forced into touch. However, he burst through the attempted tackles and set up a spectacular counter attack. The ball went through many pairs of hands to reach the Burnage line and the ever present Heaton powered through for a quite exceptional team converted try.
The home pressure continued and Bottomley seized on a pinpoint Irvine cross kick to gather the ball and score his second excellent try. A 2 man dust up developed into an untidy mass brawl and Lewis was surprisingly singled out as the one player to go to the sin bin. The Burnage penalty led to them kicking for an attacking line-out but Harrogate stole the ball and Heaton counter attacked from deep. Replacement winger, Luke Edwards tidied up a loose ball and the Harrogate attack continued. A surprising forward pass decision denied them a try but, in the dying moments, Burnage went offside to give Harrogate a penalty. Quicksilver scrum half, Phil Wickham tapped and split the Burnage defence to give the supporting Irvine the game's final converted try.
Harrogate
Denton, Minikin, Dench, Wackett, Bottomley, Irvine, Wickham, Metcalfe, Yorke, Browne, Harvey, Wilson, Smith, Heaton, Lewis, Edwards, Maycock, Brady
Burnage
Jennings, Dowdall, Oldham, Knight, Blaney, Winney, Morris, Ben Ahmed, Hammonds, Williams, Edge, Scholes, Lynn, Limb, Lawson, O'Sullivan, Fox-Leonard, Filson.
Referee
Dean Walker (Northern Division).