A Harrogate storage business looking to expand its services has been given a major boost thanks to funding from Lloyds TSB Commercial.
Twelve months ago, Town Centre Storage, which is located in the former Territorial Army drill hall, on Lower Commercial Street, had just half a dozen lockers within its 4500sq ft interior.
Now, due to funding provided by the bank, the business, owned and run by Terry Dixon, has added a further 30 lockers – ranging in size from 25sq ft to 120 sq ft – which are aimed at businesses and householders in the area looking for short or long-term storage space.
In addition, Mr Dixon has invested in more than 70 safety deposit boxes, designed for the safe keeping of documents, deeds and laptop computers, housed within a strong room in the building.
Mr Dixon said:

We are in a fantastic location in the centre of Harrogate and we have a superb premises ideal for storage. Being the former Territorial Army drill hall it is extremely secure.

We started by storing items for family and friends as a favour, but soon realised this could be turned into a real business opportunity.

With vision, a business plan – plus a bank manager who was willing to first listen and then support us financially – we are developing Town Centre Storage to its full potential.

We are now catering for a wide range of clients; from tradesmen and retailers, to those moving house and needing to put all their possessions into storage.

And, with the majority of banks moving their safety deposit box facilities away from local branches to central locations, we see this as a real opportunity for us. Many people want somewhere local and safe to store a variety of items.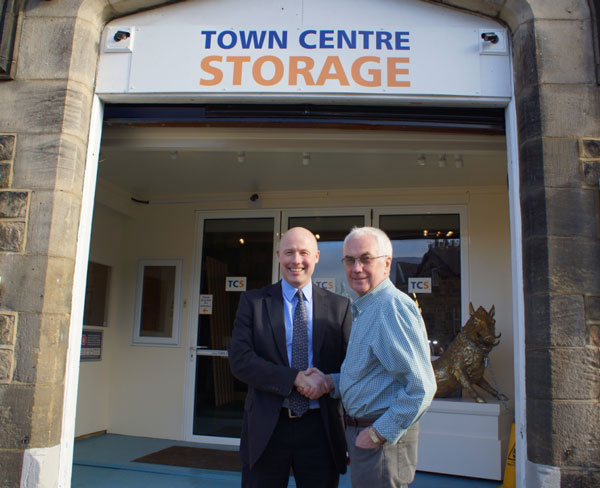 Mr Dixon added:

Now we have the storage side of the business sorted we can look at developing spin off services. These include a parcel collection point to cope with the growing trend of shopping on line.
Arthur Asquith, relationship manager for Lloyds TSB Commercial, said:

Town Centre Storage is a great example of how, with sufficient motivation and planning, an initial idea can be grown and developed into a viable business.

Access to finance is vital to ensure small local businesses are in the best possible position to grow. The funding provided by Lloyds TSB Commercial has hugely supported the firm's expansion, resulting in a wider client base and accelerating plans to diversify the business' services.