Both teams were committed to attacking rugby and this, combined with excellent refereeing, made for an exciting match which Sandal just about deserved to win.
Harrogate attacked from the start with forwards and backs linking well. Sandal eventually won a turnover and it was their turn to run through their attacking moves. Five minutes later, the players (and the crowd) were able to draw breath when we had the first scrum of the match. This pattern continued until Harrogate were penalised and Greg Wood kicked Sandal into a 3 point lead.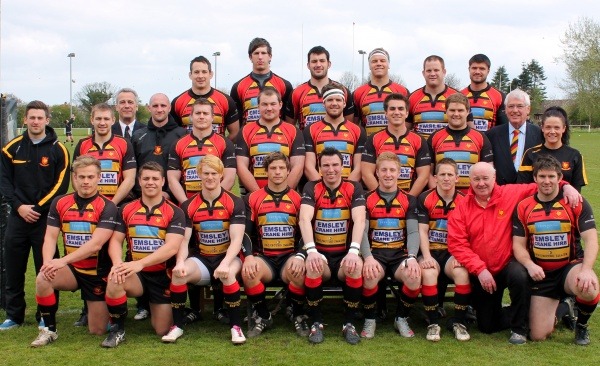 A powerful Harrogate driving maul then created good ball to set up a backs move. Sam Bottomley and Peter Wackett made incisive breaks and the ball was worked back to stand-off, Callum Irvine. He shimmied through to score under the posts and add the conversion.
Full back, Oli Denton initiated the next score with a searing counter attack from deep. Bottomley supported well and showed pace and strength to score in the corner. As half time approached, Harrogate's 3-12 lead seemed secure but Sandal mounted another attack on the right and the ball was recycled left for winger, Simon Frewin to score. Wood's conversion made it 10-12 at the break.
Harrogate attacked again from the restart but Sandal intercepted a loose pass and set up a well constructed backs move. James Ellar's converted try put Sandal 17-12 ahead. A phase of driving Harrogate forward play followed with Tom Harvey, Jake Brady, Jimmy Browne, Max Lewis, Steve Maycock and Tim Heaton all punching holes into the home defence. Recent line-out problems had been completely ironed out and the scrum went well apart from when an ill judged temporary substitution put the pack under pressure.
Sandal's well coached backs eventually got some possession and made full use of it with waves of dangerous attacking moves. However Harrogate's outstanding defence held out. A courageous head on tackle by Irvine saved a seemingly certain try. More Sandal attacks followed but Harrogate won a great turnover and Irvine counter attacked. His dazzling midfield break was followed by a long kick ahead for Wackett to gather at speed and score in the corner. Shortly afterwards, a cross kick to the right seemed to have created another Harrogate try but substitute winger, Luke Edwards was unable to gather the ball cleanly.
With the scores level, the Harrogate attacks moved up a gear to put Sandal under severe pressure. Wood intercepted on his own goal line and the home crowd was aghast when he ran instead of kicking a safe touch. The groans turned to cheers when his break took him into Harrogate's half and play was worked down to the Harrogate line. Sandal won clean ball and Wood's drop goal put them ahead. Waves of Harrogate attacks followed for the remaining few minutes but desperate home defence managed to hold out for a close victory.
Sandal
Goad, Frewin, Pease, Martin, Ellar, Wood, M Whittingham, Purcell, Heron, L Norbury, Thompson, Stewart, Maguire, Briscoe, S Whittingham, A Norbury, Gatus, Orr
Harrogate
Denton, Minikin, Dench, Wackett, Bottomley, Irvine, Wickham, Metcalfe, Maycock, Browne, Harvey, Brady, Wilson, Heaton, Lewis, Edwards, Smith, Innes
Referee. Pete Stentiford (Northern Division)