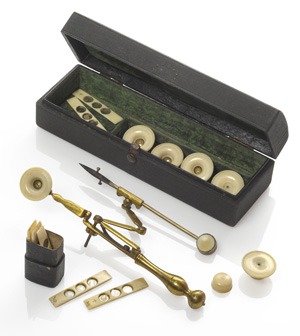 The 289 lot sale of scientific & musical instruments, cameras & tools was a resounding success. Nick Lambert, specialist in charge of the sale was extremely pleased with the overall hammer price of £86,000 and with virtually no unsold lots he commented that the department is going from strength to strength.
A fine 18th century lacquered brass compass microscope, with baluster turned brass handle and ivory mounted lenses and slides, not only featured on the front cover of the catalogue but also reached the top hammer price for this sale of £5,300. The intricate detail of this instrument, complete with original green, velvet lined, black fishskin case was well admired by scientific enthusiasts and collectors.
Another top lot was a 19th century cased coin operated 'Polyphon' musical disc player by Nicole Freres, which had 28 discs intact and a tub of old pennies, allowing viewers of the sale to be entertained all day with harmonious music such as Ave Maria and Silent Night. The disc player surpassed its estimate of £2,000-3,000 making a final hammer price of £4,600, which Nick attributed to the good condition of this rare and impressive lot.
Other musical instruments sold well including European violins and bows. An early 20th century silver mounted violin bow, stamped 'Leon Bernardel, Paris' made £3,200 against a £2000-3000 estimate and an early 19th century Scottish violin labelled 'Matthew Hardie, Edinburgh 1815' made £2,900.
This sale is set out with a dedicated 'music room' so that during the viewing budding musicians have plenty of space to play the instruments and asses the condition for themselves; Gibson guitars, bagpipes and concertinas were all among those lots put through their paces with some very strong prices achieved for individual lots.
Cameras, optical toys and drawing instruments all remained popular, with the majority reaching top estimate with help from enthusiastic internet bidding.