The RAF is offering people in Harrogate the chance to unfurl their Union flags once more and enjoy an evening of unbridled patriotic pride to mark an incredible year that has seen the 'Great' put firmly back into 'Britain'.
Featuring the Band of the Royal Air Force Regiment and the Band of the Royal Air Force College, the big band sound of Shades of Blue and popular soloist Flight Lieutenant Matthew Little, the Royal Air Force in Concert will stop off at the Royal Hall, for a performance on Friday, November 30. The compère will be BBC Radio 2 broadcaster and 'Voice of the Balls' Alan Dedicoat.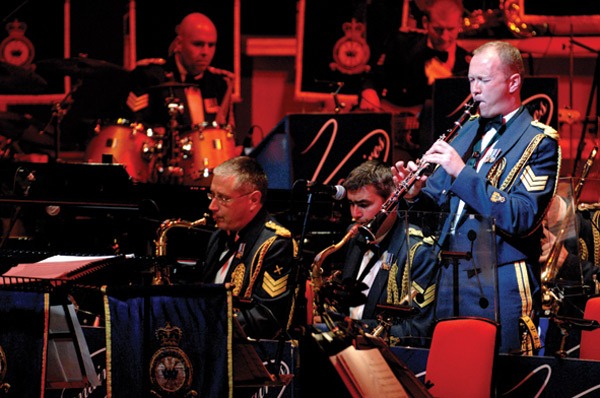 The programme – a stirring mix of classical, military and popular pieces – will feature perennial favourites such as the Dambusters March and Jerusalem alongside new compositions written to capture the spirit of this extraordinary year.
At the heart of the performance will be music celebrating The Queen's Diamond Jubilee, including Walton's Orb and Sceptre, written to mark the Coronation in 1953 and a light-hearted Tri-Service tribute.
Music from throughout The Queen's reign will also feature, from the big band sound of the Ted Heath Orchestra to Matt Monro, The Beatles and Amy Winehouse.
The conductor for the evening will be the RAF's Principal Director of Music Wing Commander Duncan Stubbs. He said: "The Bands of the Royal Air Force have been at the heart of events in this Diamond Jubilee year, including the Royal Muster at Windsor Castle in May, the Thanksgiving Service in Westminster Abbey as well as entertaining visitors at the Olympics and we are looking forward to sharing some of the excitement, pride and success we experienced in this special year with the audience in Harrogate."
The performance, which is staged in support of the RAF Charitable Trust, starts at 7.30pm and tickets are available, priced £16, £19 and £22, from the Box Office on 01423 502 116 or online at www.rafinconcert.com