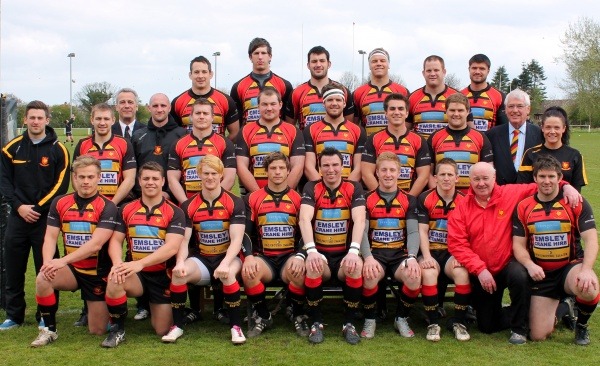 With League promotion the priority, Harrogate opted to rest key players from this Yorkshire Cup tie. They sent a largely young, inexperienced side to Cleckheaton and it turned out to be men against boys as the home side were superior in all departments. Cleckheaton would have given a stern test to a full strength Harrogate team.
The game opened with some creative Harrogate running though they completely failed to make any meaningful penetration. Aimless kicking gave valuable possession away and the forwards suffered too many turnovers in close quarter exchanges.
Home Scrum Half, Jack Bickerdike linked well with Cleckheaton's experienced stand-off, Iain Gordon whose masterful kicking controlled the game. An efficient home build-up followed a Bickerdike break and winger Martin Woodhead scored the game's first try. A Gordon penalty goal punished a Harrogate offside offence and he further extended the lead with a smartly taken drop goal. The score became 16-0 with half an hour played when prop, Paul Turner, touched down from a driving maul.
Harrogate's first meaningful attack came from a devastating 50 metres break by scrum half, Jordan Davies. However, the attempted support was unable to take advantage and a penalty was awarded against Harrogate for coming in from the side. Promising young Harrogate winger, Harry Parrish's skilful running showed real promise but, towards the end of the half, he lost possession in contact and Cleckheaton counter attacked. Winger, James Wilson's converted try made the score 23-0 at the interval.
Harrogate attacked from the restart but the home defence held firm and a mass forward brawl resulted in yellow cards for Cleckheaton's Turner and Harrogate's Martin Seyres. Several players were red card candidates but Ben Innes was the man selected and his dismissal ended any lingering Harrogate hopes.
One of the few bright spots for Harrogate was the performance of hooker Aarin Yorke who made a welcome return after a 7 months injury absence. He outpaced the home defence with a lightning left wing break and winger, Ali Chalmers supported well to score a try, converted by Joe Rowntree.
That really was the last positive happening for Harrogate. Forwards, James Spencer and Pete Corner battled strongly throughout but Cleckheaton's overall dominance continued. Five more home tries were scored in the last half hour. They came from a late hat trick from flanker, Ryan Piercy, a second try from Woodhead and a well deserved forward try from Grant Turton
Cleckheaton 54 Harrogate 7
Cleckheaton
Hayden, Wilson, Marshall, Piper, Woodhead, Gordon, Bickerdike, Turner, Thrower, C Piper, Nolan, Turton, Piercy, Bennett, R Piper
Harrogate
L Minikin, Chalmers, Edwards, Hardy, Parrish, Rowntree, Davies, Musetti, Yorke, Innes, Corner, Spencer, Campion, Smith, Seyres, Severs.
Referee
Jamie Leahy (Yorkshire)