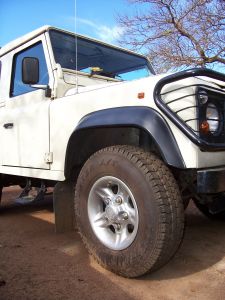 Following the theft of one Land Rover Defender and the attempted theft of another in the York area, Police have urged owners of similar vehicles to be on their guard against thieves.
A "N" registered Land Rover Defender was stolen from a property in Haxby near York and then used in a suspicious incident at a property in Rawcliffe where officers believe the suspects were targeting another Land Rover. The stolen vehicle was later found abandoned in Foss Way.
PC Andrew Muir of York Police said:

The circumstances of these incidents, suggest that Land Rover Defenders are being specifically targeted by thieves and we urge owners to be on their guard and ensure they have adequate security measures in place. In fact, our advice applies to all owners of all types of vehicles.

Make sure you use your garage if you have one and review its security. Clear it out if it's full of stuff and use it for it's original purpose. If you don't have a garage, secure the vehicle as much as possible, park in well lit areas, make sure you lock it at night and remove all valuables. Set the alarm if you have one and use other locking devices. A Thatcham approved immobiliser or steering lock can help secure older vehicles.

Please also ensure you hide the keys to your vehicle when it's not in use. Don't leave them in easy to see and easy to reach places where a thief can break into your home to steal the keys.

Anyone who has any information about this type of crime is urged to contact the police on 101, or pass information anonymously to Crimestoppers on 0800 555 111.
In a previous incident, a customised Land Rover was stolen last month from Catterick Garrison, it has not yet been found.
More information on vehicle security is available from the Vehicle Security National Helpline on 0870 550 2006 or the Sold Secure Helpline on 01327 264 687