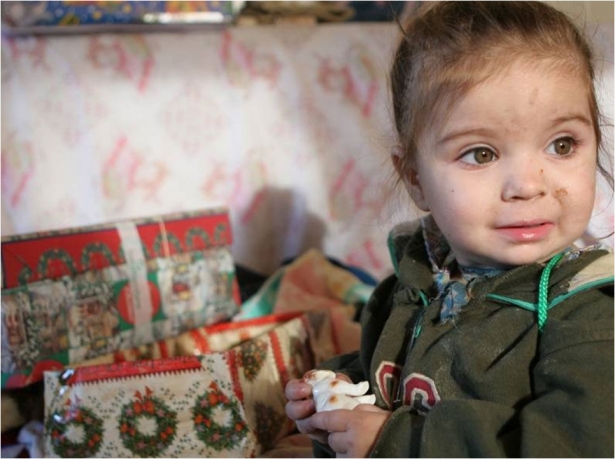 The Operation Christmas Child campaign is well underway in North Yorkshire to encourage people in our area to put together a shoebox full of small gifts and toiletries to send to a disadvantaged child overseas. This year the boxes from the Harrogate and Ripon area are destined for children in Romania.
Every year the Christian organisation, Samaritan's Purse, run a shoebox giving scheme known as Operation Christmas Child. The scheme encourages individuals, families, schools, churches, businesses, and other organisations to wrap empty shoeboxes with Christmas paper and fill them with small toys, school supplies, sweets, soap, toothpaste and toiletries and they are then sent to disadvantaged children all over the world – children that would otherwise not receive a Christmas present due to their circumstances.
Last year the UK alone sent over one million boxes to children in hospitals, orphanages, displaced persons camps, homeless shelters and impoverished neighbourhoods. This year the charity are hoping the generous people of Harrogate and Ripon district will support them once again.
A sorting warehouse has been found in Harrogate to handle the boxes contributed from our area and thanks go out from the volunteers to Robbins Associates for kindly loaning 39 Claro Business Park (off Claro Road, Harrogate).
If anyone would like to help with the sorting of the shoeboxes from Tuesday 13th November onwards the Claro road warehouse will be open on the following days: Tuesdays 1000-1800, Thursday 1400-2000 & Saturdays 1000-1400.
Local organiser Jan Harris said:

Something as simple as a shoebox carefully packed with a few inexpensive items such as soap, pens a toy and a toothbrush can make such an enormous difference to a child who has never had a Christmas present". She adds "Please encourage your children or grand-children, your school, church, workplace or local organisation to fill a shoebox this year if you can; we managed 4,700 boxes from this area last year so we're aiming for the 5,000 mark this year. We always need an army of volunteers to help sort and pack the boxes and it's really rewarding work for just a short period of time so please get in touch if you can spare an hour or two in November or early December
Leaflets explaining exactly what to pack in a shoebox (and what not to include) can be downloaded from www.operationchristmaschild.org.uk.
If you would like to know more or would like to help the campaign during November or December, please call Jan Harris on 07932 477005.
The deadline for completed boxes to be handed in to a drop off point (or collected by Jan and her team) is Friday 16th November but completed boxes are welcome now. Drop off points in Ripon include Leeds Building Society, Holy Trinity Church or Yeomans. In Thirsk, you can drop a box off at Shoe Zone, Stead & Simpson or the Ford Garage. In Knaresborough it's Yeomans again and in Harrogate: Leeds Building Society, GC Motors, Ripon Road, the Mercedes Garage on Leeds road or MWB on Station Parade.