The Royal Pump Room Museum and Harrogate Youth Theatre are looking for your stories to help the upcoming performance, 'Pumped', and to capture Harrogate's history from the people who remember.
Diane Taylor of the Pump Room Museum said:

Can you help us identify the women in this photo, taken at the hydrotherapy pool of the Royal Baths in 1960?

Were you a spa visitor?  Did you or a relative work in the hotels or give treatments? Do you have photographs or objects telling the story of Harrogate during the second world war? Family memories or film from the sixties, seventies or eighties?

Let us discover your stories of the people that made Harrogate's twentieth century history before memories and the treasured objects are forgotten or lost forever.

Bring along your photographs, film and objects relating to Harrogate's past for our curators to see and document on Saturday 10th November between 11am and 3pm at the Mercer Art Gallery. Discount vouchers for entry to the museum on 10th November will be given out to those taking part.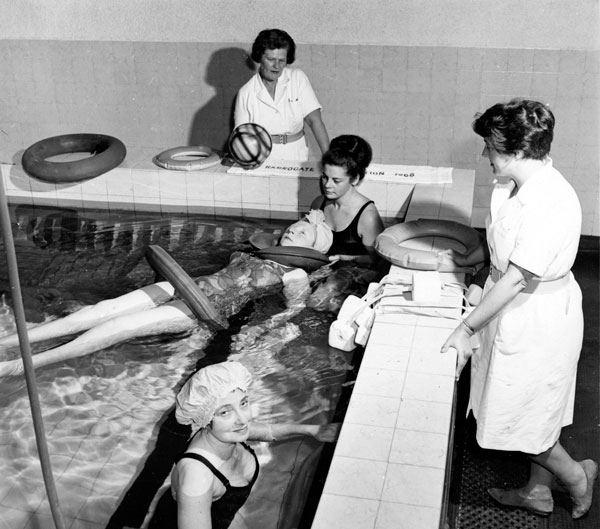 Those taking part will gain free entry to the Royal Pump Room Museum that day to discover Harrogate for Health and Happiness: A Spa Town in the 20th Century. The exhibition features 1930s film footage of people taking the sulphur water and enjoying the treatments on offer at the Royal Baths, including peat baths, with electricity and being locked in a heat box! See beautiful costume from the last century and a piece of the only bomb that fell on Harrogate during World War Two.
Harrogate Theatre is running a similar event from 11am until 3pm on Saturday 3rd November, with the particular aim of capturing stories and memories that will feed into the content of the Youth Theatre's Pumped! show, which will be performed at the Royal Pump Room Museum on Saturday 1st December.
Information collected at both events will be shared by the theatre and museum and recorded in word as well as with audio and video equipment.
Tickets for Pumped! can be purchased from Harrogate Theatre's Box Office on 01423 502116.