Harrogate Railway Ladies played host to Pontefract today (29 October 2012) in a league fixture winning 2-1.
After knocking out Pontefract in the cup last week Railway were the favourites to win again this week, however the Railway ladies were not expecting a hard fought match like this one turned out to be. After only 5 minutes railway were putting on the pressure and when a goal scramble was cleared by Ponte it was Ali Purvis who headed the ball back towards goal and Hannah Campbell did a great turn in the box and fired home Rails first 1-0.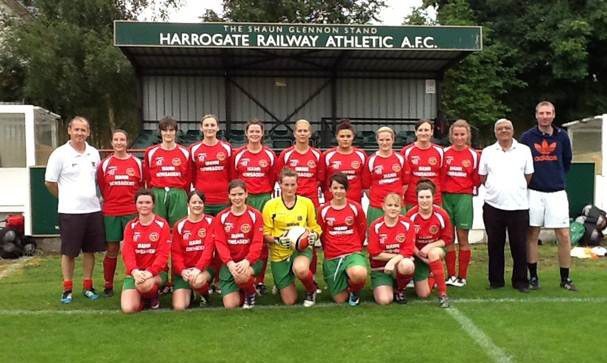 Railway had 6 different players on the pitch from last week but still it was a good strong team, Pontefract had 2 new players on and from the restart took control of the first half, constantly threatening rails goal. There was some sloppy passing from railway and they were struggling to control Pontefract's striker as she made life very difficult for the back line. On the 19th minute Pontefract played the long ball and this fell to there striker whose pace beat Rails defence and a well taken shot beating Emma Prest in goal 1-1.
Just before half time Pontefract pushed on and forced a great save from Emma pushing the ball around the post for a corner, Railway successfully defended this and got to half time pleased to be on equal score lines!
After the halftime talk Railway looked like a team determined to bag all 3 points, with constant pressure from the left and right side they had Pontefract stretched all sides. Pontefract did not buckle to the pressure and dug deep to defend and get the odd chance at rails goal. It was the 65th minute when Hannah was taken down in the box and won a penalty, a good shot was taken from the spot but a great save was produced by the keeper who managed to tip the ball over the top bar, still 1-1.
It was looking like Railway were going to come up short this time and no matter what they through at Ponte they failed to score. Not until the 85th minute when Railway were given a free kick 30yards out, Ali Purvis delivered a high ball in and nearly all the railway players were in the box, a real goal mouth scramble ensued until Hannah just managed to poke the ball over the line 2-1.
Player of the match went to Ellie Macleod for her hard work in defence.
It was a real battle today and a lot was learned, one, that you should never look at past scores and expect a result to go your way. Well-done to the Railway ladies for digging out another 3 points next week they are away at Ossett Town.