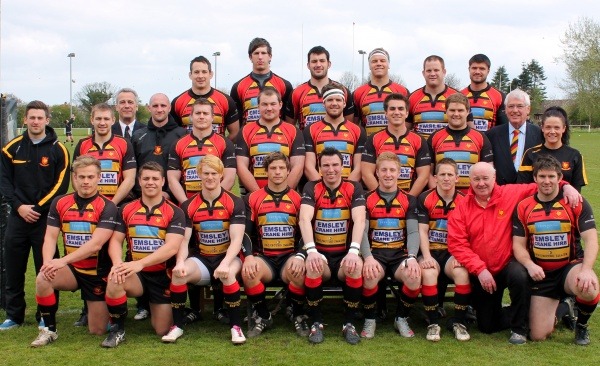 In what threatened to be their sternest test of the season, Harrogate Rugby 1st XV produced an outstanding team performance to consolidate their position at the top of the League. After a few early creaky scrums, the Harrogate pack dominated in all phases of the game to produce a stream of good ball for their talented backs.
No8, Max Lewis drove into the home defence from the start and Lymm had to commit two or three tacklers to check him. Strong support play from Tim Heaton, Tom Harvey & Jake Brady inevitably followed and gaps started to appear in the home defence. Scrum half, Phil Wickham's sharp service enabled Callum Irvine to orchestrate the back line and telling breaks were made by centres, Kyle Dench and Sam Bottomley. Lymm eventually went offside and an Irvine penalty goal put Harrogate ahead.
At this stage, Lymm were still very much in the game and defended exceptionally well. When Harrogate came in from the side at a ruck, a Cormack Nolan penalty kick levelled the scores. The Harrogate pressure continued and, after a succession of driving mauls on the Lymm goal line, flanker Chris Wilson dived through to score a converted try.
Lymm continued to compete at every opportunity and came close to scoring when a loose Harrogate clearance kick was charged down. Strong driving mauls have been a big part of Lymm's successes this season but they were repeatedly turned over today by Lewis and the rest of the uncompromising Harrogate pack. With half time looming, Harrogate spurned a kickable penalty and went for an attacking line-out. This time it was Heaton who tucked in behind the driving maul for a converted try.
Harrogate went back on the attack from the restart and a penetrating Bottomley break split the home defence. Lymm were relieved when the visitors were penalised for crossing but it was only a temporary respite. More attacks followed and the growingly impressive Noel Minikin sped over for a fine try.
Irvine continued to kick and distribute effectively but also kept the home back row honest with some telling breaks. Dancing master, Rob Almond made telling incursions from full back and Oli Denton runs also tested the home defence. Skipper, Jimmy Browne inspired Steve Maycock and Ben Innes, his front row colleagues, to dominate the Lymm pack and substitute prop, Dom Musetti made a big impact when he came on. Nathan Smith, Harrogate's other substitute forward, also made his presence quickly felt with some abrasive close quarter work.
The final converted try came from still more repeated forward pressure on the home line. Musetti squeezed over from close range for his maiden Harrogate try.
Lymm
Williamson, Barnes-Smith, Knowles, Delaney, Natrass, Nolan, Baker, Widrington, Allen, Ashton, Williams, Darbyshire, Oakes, Mullarkey, Higginson, Isherwood, Giles, T Smith.
Harrogate
Almond, Denton, Bottomley, Dench, Minikin, Irvine, Wickham, Browne, Maycock, Innes, Harvey, Brady, Wilson, Heaton, Lewis, Rowntree, N Smith, Musetti
Referee Veryan Boscawen (London & SE Division)