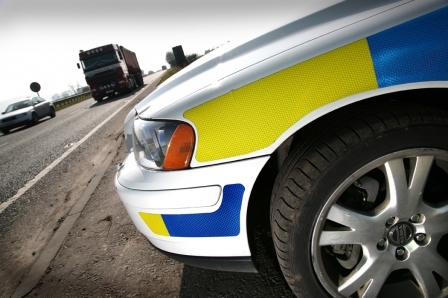 North and West Yorkshire police teamed up over the weekend to stop seven suspected fuel thieves.
At around 12.30am on Saturday 20 October 2012 a traffic officer patrolling the A1 noticed a hire van in the Barnsdale Bar lay-by along with six lorries which had parked up for the night.
As police approached the van, two men ran off leaving the driver behind.
The vehicle was searched and officers found 12 containers in the back and pipes commonly used for siphoning diesel.
The driver of the van, a 24-year-old man, was arrested at the scene on suspicion of going equipped for theft.
A police dog tracked the scent of the other two men to a nearby hotel and enquires established that they had taken a taxi to Leeds.
Officers from West Yorkshire Police stopped the taxi on the M62 at Castleford and the other suspects were taken into custody.
At around 12.50am the same morning, officers spotted a red Peugeot van leaving the same lay-by at Barnsdale Bar.
The van, carrying four occupants, failed to stop and drove off towards West Yorkshire with officers in pursuit.
The vehicle was stopped in South Elmsall and officers discovered diesel drums and a HGV battery in the back.
The occupants of the vehicle, two 18-year-old men, a 20-year-old man and a 15-year-old youth were all taken into custody by West Yorkshire Police on suspicion of theft, and going equipped for theft.
The driver, one of the 18-year-old men, was also arrested on suspicion of dangerous driving and failing to stop for police.
PC Tony Morton, of Selby police, said:

This is another great example of the work we are doing with our colleagues from West Yorkshire Police to put a stop to fuel thieves operating in our area.

It is very costly for haulage firms to have diesel stolen from their vehicles and we are working extremely hard to ensure that they are protected when in North and West Yorkshire.

Fuel theft is something we take extremely seriously and as last weekend proves, if you target vehicles in our area we will catch you.
DCI Karen Gayles of Wakefield District Police, said:

We always work closely with our partners in neighbouring forces and these arrests again demonstrate that when it comes to crime, there are no borders and criminals should expect to be pursued, no matter where they go.