PC David Rathband's Blue Lamp Foundation helps get injured Police Officers back on the beat donating £60,000 to Police Treatment Centres.
Statistics show that every 20 minutes a Police Officer is assaulted. As highlighted by the two recent police deaths Police work in a physically and emotionally demanding environment and face unusually high rates of injury, disability and even fatalities.
The purposely designed Police Treatment Centres care for over 4000 officers every year offering intensive residential physiotherapy ensuring officers are back in full operation serving the public and keeping our communities safe. The Police Treatment Centres support over 3000 Police Officers in the North East.
Currently the Charity which is largely funded by police officers themselves is bringing its Harrogate facilities up to modern standard at a cost of £1m.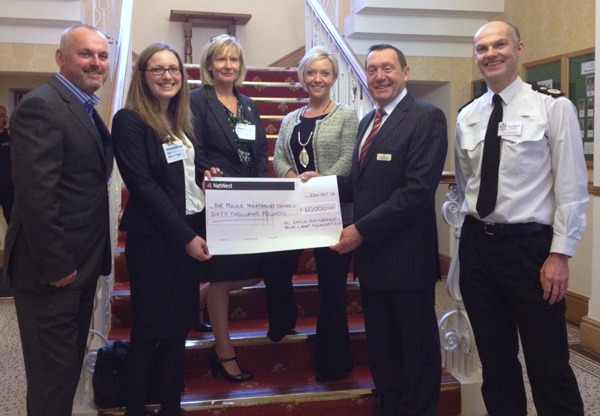 The Blue Lamp Foundation was born from a vision PC David Rathband had following his brutal injury sustained in the line of duty. He wanted to form a charity to assist those officers who like him are injured in the line of duty.
Kath Rathband, Patron and widow of David, hailed this donation as being a fitting tribute to David's vision of helping his colleagues and said:

The decision of the Foundation's Trustees to fund the refurbishment of these specialist bedrooms will provide a superb tribute in recognition of what David suffered in his own personal mobility challenges following the loss of his sight. We hope also that it will allow us to meet one of David's personal visions and objectives – to support his fellow Police Service colleagues who are in need. The latter challenge was particularly close to David. We are very proud to be able to provide this support to the Police Treatment Centres on David's behalf and in his memory.
Michael Baxter QPM and Chief Executive of the Police Treatment Centres said:

The Blue Lamp Foundation's donation of £60,000 is a tremendous boost and we are enormously grateful to Kath Rathband for her wonderful support.

The Home Office has given £500,000 and we have been fundraising ourselves, however, there is still a way to go and we would welcome any further support from any other sources.
Peter Sweeney, Chair of the Foundation, explained that the Committee and Trustees of the Foundation have worked hard to develop the Foundation and ensure it is in keeping with the spirit in which it was established:

We are delighted to have been able to extend the assistance we can provide beyond specific financial contributions to individuals to funding key support services. We are looking forward to further opportunities to provide assistance to other emergency service personnel.
www.thepolicetreatmentcentres.org