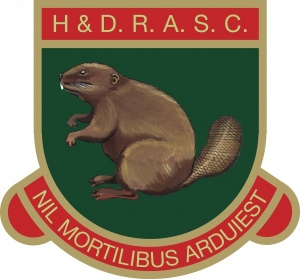 A fine display by the Allstars sees them go top!
Sunday 21st saw a 'Top of the Table' clash between B League leaders Collingham Colts U13's and Second placed Harrogate Railway Allstars. Only Goal Difference split them as both teams had won four, drawn one and were both undefeated. Both teams quite rightly expected an extremely hard encounter.
From the start, Allstars closed down Collingham and quickly dominated the midfield area, this coupled with the weather conditions and Collingham's inability to adapt to the conditions allowed Allstars to deny Collingham the time or space to play their favoured 'tippy tap' football style.
Allstars began to probe with attack after attack and on 14th minute a Collingham clearance was collected some 5 yards into the opposition half, on the half-volley by Allstars right-back Jake Richardson. The looping ball sailing neatly under the cross bar leaving the Colts keeper no chance 1 nil up!
Allstars nerve steadied and with the boys again dominating in midfield, Jack Clifton again working solidly with Justin Nze, Josh Mulandi, Joe Horsley, Quinny and man-of-the-match winner Jock Thrush all putting in a 'blood and thunder' display, the reward? Another scrambled clearance falling to Team Captain & centre half Nat Cutts, who saw his goal bound shot from outside the area caught by the 'keeper, but then drop it into his goal a la 'Gary Sprake' (a bit before most peoples time I know, but whatever!) 2 nil
One of Collingham's rare 1st half attacks saw a fine low shot pushed away from goal by James
Moore onto the post, the parry rebound onto his back and then rebound goal-wards, James managing to flip over and stop the ball crossing the line preventing a certain goal. Again Allstars
showed patience & composure probing from midfield & building up a fine attack with fluid passing, the final ball threaded through by Jock to Charlie Wynne, who converted for his 16th goal in 6 appearances this season.
The bit was now firmly between Allstars teeth and fine build up play saw Jock pass to Joe who unselfishly fed Josh Quinn, Quinny in on goal calmly converted, slotting the shot into the net. 4 nil at half time and Collingham were rocked to their boots.
The second half began with Collingham trying to get back into the game and this saw the Allstars defence of Nat, Jake, Paddy McBride, Tom Craddock, Fin Darvill & Jake Jones all working well.
An early scare saw Jake R adjudged to have committed a foul inside the area, penalty to Collingham, fortunately the resultant penalty kick was sent high over the bar and Allstars lead well intact!
Allstars went on to close out the game with Joe once again feeding Quinny who finished with aplomb and the goal of the match scored by Justin who went on one of his individual 'mazy' runs through and around most of Collingham midfield and defence and finish with a fine right foot curling effort into the far bottom corner leaving the Collingham keeper no chance.
Collingham did manage claw a consolation goal back, but by the time they scored Allstars had already had the 'game in the bag'
Manager Jim Thrush enthused:

Well done boys an immense team spirit coupled with great effort, fantastic focus & skill.

Let's keep it up!