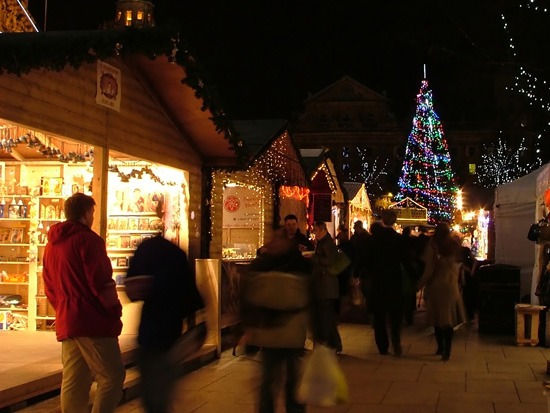 Harrogate Christmas Market organisers are verdantly standing by their decision to not allow food stands to sell food for consumption during the market – running between 22 – 25 November 2012.
Locally, there has been a strong backlash over the ban in having food you can eat at a market, many believe that this is a key feature of a Christmas Market.
On-line there has been active debate, these are some of the typical comments:-
I think banning food stalls is a little short sighted. Most people I know who go to Leeds and other markets also go for the different food that is on offer there it adds to the experience of going to a Christmas market.
I personally think that no food at the Christmas Market is a bad decision, people do come to this sort of event expecting to find typical christmas fayre on offer. Now we are expected to leave the market and find local businesses serving the usual food. We want something different and without there being something there on site those of us with children will probably have to go to the awful MacDonalds. Come on, think again.
Very disappointed that there will be no food. I work in Harrogate, but will visit the Leeds market instead – delicious and unusual food.
No doubt the Montpellier Quarter has excellent cafe's, restaurants and bars but who really wants to sit in a crowded cafe when they have come to enjoy a bit of fresh air and traditional christmas fayre? Not I and I fear many will be following Jane <referring to previous comment> to Leeds and other markets. This was a real opportunity to start something good and already it appears to have been knee-capped by local traders who wouldn't have a clue how much business these 'continental markets' do actually bring into town. No doubt they will be hiking their prices to take full advantage of those attending who have not been informed that their children will not be treated to a Hot Pretzel, Stollen Bread or Warming Gluwhein. As a trader attending this event after a rotten summer due to the weather (show cancellations, footfall, etc) I now find myself extremely worried that it will fall short of expectations due to this very short sighted decision.
The event is being organised by the Harrogate Christmas Market Committee in conjuncition with the Harrogate Chamber of Trade and is to be operated by Yorkshire Business Markets Ltd, an enterprise operated by Brian Dunsby, the Chief Executive of the Harrogate Chamber of Trade and Commerce.
Harrogate-News has requested details of the members who form the Christmas Market Committee and those members who made the decision to not have food. The information has not been forthcoming.
Brian Dunsby, Chief Executive of the Harrogate Chamber of Trade said:

The regulations are very strict and the risks of litter and nuisance are high.
Brian Dunsby has written to all stall holders that have requested to hold food stalls for consumption, declining their application. In his email he explains that there is a firm policy decision not to have any catering stalls offering food and drink for consumption within the Market on the grounds of health and safety concerns, food hygiene regulations, licensing regulations and potential litter problems.  The policy also applies to open unwrapped or uncooked foodstuffs, even if intended for taking home.
In the his response to trade stall holders, Brian Dunsby also explains that the decision was taken because the market location is surrounded by numerous cafes, bars, restaurants and hotels who naturally wish to cater for our many visitors.
Sandra Doherty is the proprietor of the Alexa Guest house and is the current president of the Harrogate Chamber of Trade & Commerce.
Sandra Doherty said:

The Christmas Market Committee in conjunction with the Chamber Management group decided as this was our first venture into running a Christmas Market we would err on the side of caution and not have stalls which required facilities such as water and cooking and those who would provide hot food or food for consumption on the day.

We also felt that due to the site and position of the market… surrounded by Hotels Cafes and restaurants we did not want to upset out local trade people who do pay rates and provide food all year.

We are trying to provide a great new event for Harrogate without upsetting our own Chamber members and the local trade people.
I hope "the People of Harrogate" can understand we are trying something new… We can only do our best and can take feedback positive or not after the event.

As it is just about sold out now there is absolutely no point in having any more discussions about it this year as it would be very unfair to allow some food related stalls in at this late stage after turning several away earlier.

I would hazard a guess that there will be an equal number of people who will be pleased that there is not an issue with the rubbish and smells caused by stands selling food. And another set of people who would rather that there was no market at all. It is one of those can't please all the people situations.
The Market Square Group operate many markets throughout the UK and had been previously been in negotiations to run the Christmas Market.
As a company, they have great experience in Christmas Markets and this is the only market that they are aware of that will not allow food for consumption at the time.
They were forced to pull out of operating the Harrogate market due to what they saw as unreasonable conditions being placed upon them, making it unviable.
Paul Kennedy of the Market Square Group said:

We had to withdraw from providing this year's Christmas Market due to too many restrictions being placed on the type of stalls we could have.

Tighter and tighter restrictions meant the market simply became unviable. We were told the restrictions were because traders in the town didn't want their businesses affected.

Even though we argued that the market would complement existing business offerings and bring more people into the town for the benefit of all, it fell on deaf ears.

We have also had to take the decision not to return to Harrogate in future with our very popular World Village Market due to the same restrictions.
Paul Kennedy, commenting on the decision to not allow food stalls:
This decision comes as no surprise to us.

It simply boils down to short-sighted people with vested interests who have slowly and surely removed any variety and viability from a Christmas market which will now be just a shadow of what it has been in the past and what it could have been in the future.
The apparent policy of protectionism by the Chamber Trade does not serve the people of Harrogate well. While it can can be understood that in the current economic climate that support of trade is difficult and needs support, controlling a market place is not the way to achieve that.
Hosting a vibrant market, in the traditional way with food you can eat at the time, will encourage many more to Harrogate and the local businesses would more likely gain business from the spillover from that.
More consultation should have taken place with the community and too much emphasis has been placed upon the needs of local traders rather than what the residence of the town want.
Having visitors potentially leave Harrogate with disappointment over the market is damaging for Harrogate and jeopardises the future of the market in the coming years as people will not want to return.