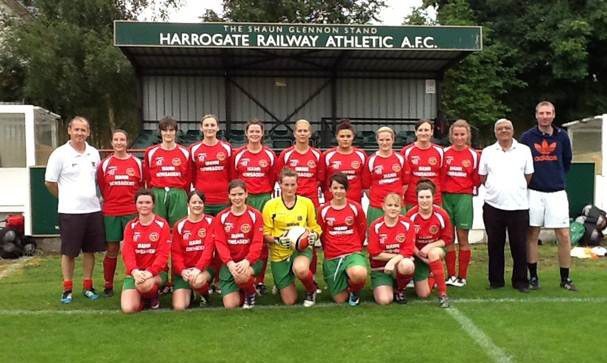 Harrogate Railway ladies played host to 2nd placed Brighouse today (7 Oct 2012) and once again came out on top with a 6-1 win.
From the kick off Railway were pressing hard and it was inform Hannah Campbell who got into the penalty box turning and weaving and finally fouled on the 4th minute, penalty, Hannah calmly put the ball into the bottom right corner 1-0. Brighouse was not happy, and showed why they are second in the league , from the restart they caused problems straight away and their speed up front showed, instantly getting into the railway box, where the forward was brought down from behind, penalty, Rails keeper Emma Prest, got a good hand to the penalty but the shot was to hard and just went in, 1-1.
The game flowed well for both teams both creating chances but after 24 minutes Nicola Hadley received a great cross, from player of the match Megan Stickland on the left, and drove a fine shot into the bottom right corner, 2-1.
Railways tails were well and truly up putting more pressure on the Brighouse defence, only 5 minutes passed before right winger Leah Mercer put in a pin point pass for Hannah to latch onto and score her 2nd goal, 3-1.
Railways defence, Emma Prest, Kat Purvis, Issy Rowand and Skipper Ali Purvis had a great game absorbing all the pressure that was put at them, Midfielder Dee Swales took her chance in front of goal scoring with a great shot on the 38th minute, 4-1, Half time.
Brighouse changed the formation at half time and this caught Railway out to start with and again both teams created chances, Nicola Hadley was in the thick of things in midfield winning most tackles and setting up the attacks along with Jodie Hodgson who had a lot better game than last week. It was the 63rd minute that saw the next goal, again Hannah getting her hat trick with a shot that was so hard it nearly bent the far post and went in, awesome! 5-1.
This took the steam out of Brighouse and Railway just kept going Dee Swales bagging her 2nd on 75minutes with another shot from 22yrds out, 6-1.
Once again another great team performance and 3 more points on the board.
Next week the ladies face Pontefract Reserves in the league cup at Station View KO 2pm.