Staff at Engage Mutual in Harrogate are hoping to cook up a treat as they take part in the Saint Michael's Hospice 'you're inspired' challenge.
The 12- strong team from the mutual organisation is taking part in the four week challenge in which businesses from across the area compete to raise the most money for Saint Michael's.
In a bid to raise funds, the team at Engage Mutual has created a 'dream recipe' book which features well-loved recipes submitted by staff at the Hornbeam park office.
There are recipes to suit any occasion ranging from barbeque chicken wings, beer battered haggis balls to Thai green curry, and for those with a sweet tooth, there are instructions for chocolate orange cake, parkin and what have been described as the 'best chocolate brownies on the globe'.
The group have also set up a luxury raffle which offers prizes including holiday vouchers to the value of £2,500, £250 worth of Marks and Spencer vouchers, and a 22" Samsung TV.
Members of the Engage Mutual team, along with Sid the Pig will be heading to ASDA in Harrogate to sell the recipe books and raffle tickets on Thursday 11 October and Thursday 30 October.
Speaking of the challenge Martin Lynch, team captain, said:

We hope the cookbook, which brings together some fantastic recipes, tried and tested by staff here at Engage Mutual, together with the luxury raffle, will help us achieve our aim of raising as much money as possible for Saint Michael's.
Following the completion of the challenge, participating teams will gather in an Apprentice-style boardroom on Tuesday 6 November to face the 'you're inspired' judging panel. The team which raises the most money will have the honour of being crowned the 'you're inspired' Champions of 2012.
Speaking of the challenge Steve Barry, HR & Learning Director at Engage Mutual, said:

Saint Michael's is one of Engage Mutual's chosen charities, and we understand how vital it is to the local community. In addition to our continued support of the Midnight Walk, our participation in this challenge aims to make a big contribution to help Saint Michael's continue its valuable work.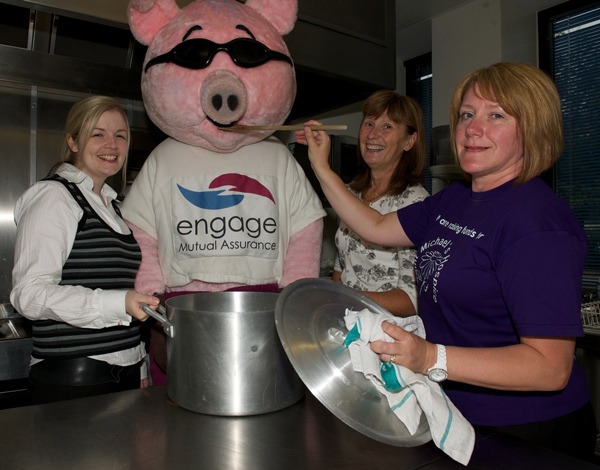 All monies raised will help with the continued improvements of the services offered by Saint Michael's in Harrogate, as well as helping to extend the work the charity does supporting people in their own homes.
To find out more about Engage Mutual's involvement in the 'you're inspired challenge'  visit www.engagemutual.com/about-us/charitable-activity/youre-inspired-challenge/