Business students from Aidans and St John Fisher Associated Sixth Form were given a flavour of the corporate world on Tuesday 25th September, through a series of in-school presentations by O2.
David Wood, Head of Business at St John Fisher, explained:

We were delighted that O2 were able work in partnership with us to help bring learning to life for our Business A-level students. We have strong relationships with many businesses in the Harrogate area and in the Diocese of Leeds, and O2's commitment to enthusing and encouraging emerging talent from our associated sixth form was much appreciated.

O2 is a well-known company with products and services that students can easily identify with. The students have been researching online and through other media for a project on recruitment at the company. Being able to directly question company personnel about their roles and experiences has given them a great advantage. The three speakers gave very en- gaging presentations based on work at management, supervisory and customer-facing levels.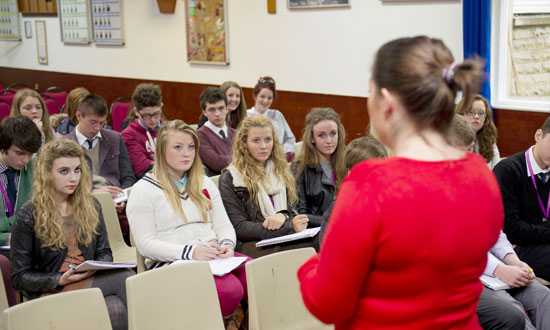 Ellie Jobson and Georgia Holberry, Y12 said:

The sessions were really useful. Talking to the presenters gave us a clear un- derstanding of the benefits of working for large corporations. It definitely gave us a better realisation of the working world, the processes of recruitment and what opportunities are available to us after education.