Following the news that skipper Paul Bolland may be out of action longer than originally anticipated, manager Simon Weaver has moved to bring in a familiar face to Town fans.
Returning to the club on a three month loan is York City midfielder Tom Platt. Tom, 19, originally joined us on loan towards the end of last season and he made an instant impact, scoring one and winning a penalty against Corby Town at the CNG Stadium.
His performances at Harrogate Town helped him to win his first professional contract at the Minstermen and we are very pleased that he has agreed to come back and play for us.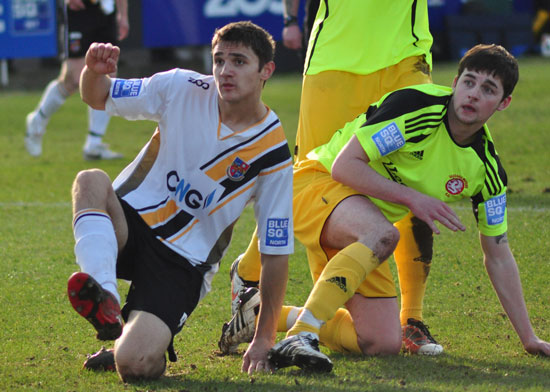 Also coming back to the CNG is Dan Clayton. Dan who also originally joined Town last season, has been in blistering form for Knaresborough Town scoring six goals already from his left midfield position, it has been this that has prompted Simon to call him back up to Harrogate Town.
Last campaign, Dan made two appearances in a Town shirt, both in the West Riding County Cup.
He has also stared against Town this season with a good performance in the Knaresborough Town sqaud that held us to a 1-1 pre-season friendly draw.
Welcome back Tom and Dan!
Photographs by Peter Arnett (Harrogate Town AFC 2012)