Ossett Town visited Harrogate Railway Ladies today and were given a hard lesson on football with Railway Ladies winning 12-0.
Hannah Campbell opened the scoring on 9 minutes after a well weighted pass from Nicola Hadley put her through the Ossett defence and score her first off 5!
Francesca Ireland had a great game in midfield winning tackle after tackle and feeding out to the strikers. On the 12th minute Hannah became the supplier and set up Ali Purvis to fire in a great shot 2-0. Next it was Emma Lansdall on the left, who put in a great high cross finding Nicola Hadley to head home on 16 minutes, 3-0.
Hannah bagged her second after 36 mins when her cross went slightly of mark and went in the goal, a bit of luck there!. With 5 minutes to half time Hannah was brought down in the box, she stepped up to the mark and claim her hatrick , 5-0 half time.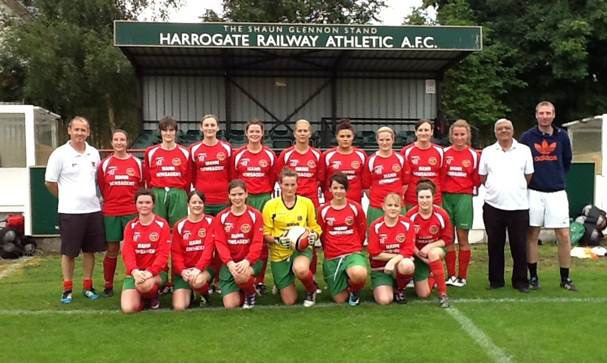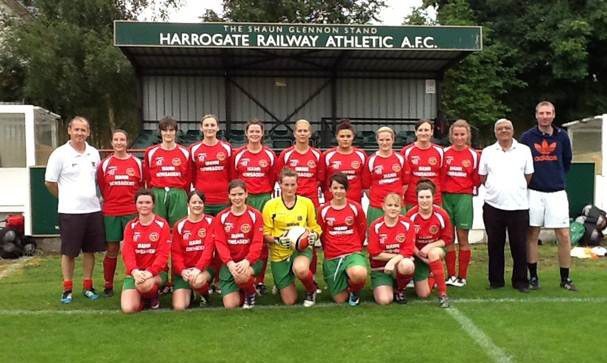 Martina Petrova come on at the break in place of Ali Purvis, on the right and caused plenty of trouble for Ossett with her quick pace. Railway were not letting up and on 48 minutes a Ossett goal kick went only as far as Hannah who's shot hit the post and went back in of the Ossett keeper, own goal 6-0.
Ossett were well and truly out played, and yet again another poor goal kick landed at Rails formidable striker, Hannah, and from 22yrds out drove the ball home,7-0.
The rest of the game became a shooting match for Railway, Nicola Hadley with a half volley 26 yrds out,8-0 followed by Jodi Hodgson 28 yrds out top left corner,9-0, Hannah on 61 minutes 10-0. From a corner Jodi claimed her second with a fine volley, 11-0 and with 2 minutes to go Sandra Clarke drilled one in from 18yrds out to finish the match 12-0.
A great team performance today Hannah Campbell getting man of the match, next week the Ladies are away to Hemsworth Ladies.