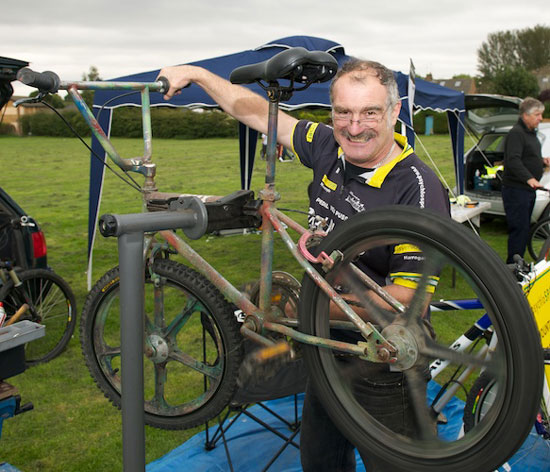 A special bike event held on 16 September 2012 in Harrogate's Woodfield Ward has been hailed a great success.
Over 200 residents turned out to hear about the benefits of cycling for leisure and health and also how to keep bikes safe and secure. 120 bikes received free security marking and 20 bikes were classed as unsafe to be used.
There were workshops on basic cycle maintenance, advice on how to keep bikes safe, where to buy bikes, or recycle old ones, as well as details about where to cycle in the Harrogate district on routes that are safe and fun. And there was all the latest on cycling trends.
Local PCSO James Skaith, says he was delighted with the outcome. He added:

One of the 'My neighbourhood' organisers of the event, l "I was really surprised at how many people visited us during the day and it just goes to show that people are prepared to get involved when this sort of event is organised for their benefit.

I am sure that we will see more families cycling and they will be well equipped to make sure they do it safely and also keep their bikes free from theft by not just marking them but by making sure they are locked and securely stored when not in use.

I would like to thank everyone involved who made the day possible, particularly local businesses who not only gave their time but also a number of prizes including a bmx bike from Halfords.
In a further move to make sure we can clamp down on bike theft, the Harrogate District Community Safety Partnership has just launched its latest STOP campaign working with local bike shops. These businesses are handing out a pack produced by the Partnership to customers buying new bikes.
The pack contains information and practical advice on locking bikes and making sure they purchase good quality locks, there's a UV pen to mark each part of a bike and a secure saddle cover.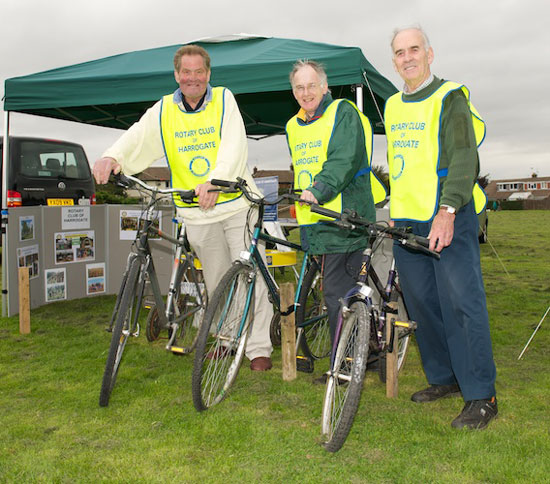 Harrogate Rotary Club where at the event promoting Bicycle recycling where it sends back to countries where they are need such as Africa and the Ukraine.
Tony Hill of the Harrogate Rotary Club explained:

Many people have bikes in their garages and sheds that are not being used. We take unused bikes, refurbish them, and then have them shipped to where they are needed.
Mel Greaves, of the Community Safety Partnership, said that whilst the number of cycles stolen in the area is not huge, there has been a rise in the number of bikes either using poor quality locks or no locks at all.
Mel Greaves added:

This campaign aims to inform and prevent cycles from being stolen. Bike marking alone is not enough to stop a bike thief. If we are to prevent bike theft we must encourage cyclists to lock their bikes with a good quality lock, the lock should cost at least 10 per cent of the value of the bike. Remember lock it or lose it.
If you would like to receive a free pack, please contact the Community Safety Partnership team at e-mail: community.safety@harrogate.gov.uk or telephone 0845 300 6091.