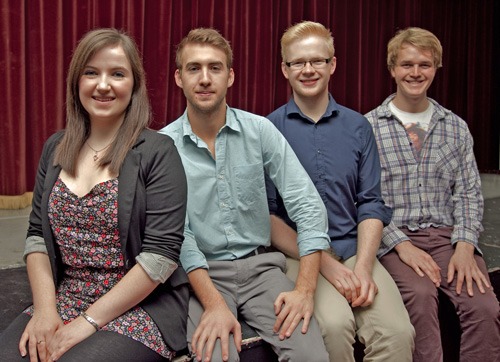 Three St John Fisher students from Harrogate have each been awarded a scholarship at the Guildford School of Acting, one of the top colleges in the country for Performing Arts. The course leads to performances in a West End theatre for successful students.
The students, Grant McIntyre, aged 19, Christian Lunn, aged 20 and George Mulryan, aged 19, each receive a Government funded grant worth £30,000 over 3 years. A fourth student, Beth Organ, aged 19 is currently in her 3rd year at the Central School of Speech and Drama, London.
Grant, Christian and George were selected from 4,000 applicants for 30 places while Beth won one of 60 places from 9,000 applicants.
George said:

SJF has 'Special Arts' status, allowing performing arts to be part of the extra curriculum activities. This means drama and music is available without the extra expense of out of school classes.
Grant added:

It's very exciting. To be offered the scholarship gives me extra belief in myself.
Next year, St. John Fisher is to perform 'The Phantom of the Opera', one of the first schools to be allowed this honour.
Nigel Beetles, Assistant Head of the Performing Arts Faculty, said:

We are fantastically proud of the outstanding achievements of our students. SJF runs an inclusive policy for everybody. In an audition process, students will always be cast into a role or chorus part, whatever their abilities. As our four students have shown, the possibilities for future success is there if you are prepared to work for it.